We are a British couple, living in the UK but moving soon to Västerbotten. We have a relationship with a British organisation that works in South Africa, and after my first trip in 2018 I was invited back in 2019. The dates were very constrained, and I had to fit my work commitments around them. The organisation were prepared to pay for my flights into Namibia and then returning from South Africa. I just needed to make my own way from Namibia to South Africa in between.
So, although it was very short, we booked an 11 day / 2500km trip around northern Namibia, after which I would continue alone to South Africa for another two weeks' work. We would have preferred two full weeks as a minimum, but we were very constrained by our jobs. For anyone thinking of following in our footsteps, two weeks is an absolute minimum. Don't rush!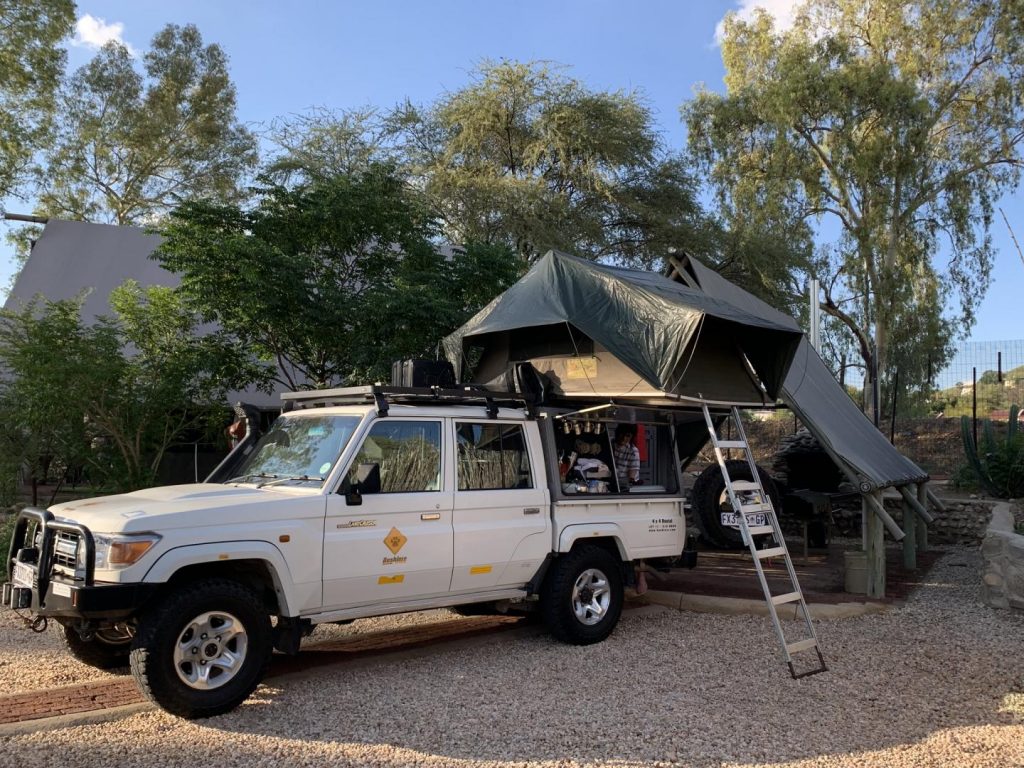 This was our truck – a Toyota Land Cruiser 79 Pickup, rented from the Windhoek office of Bushlore, who have offices in Johannesburg and Cape Town. With additional fees for cross-border travel, their vehicles are available for rental in South Africa, Namibia, Botswana, Angola, Zambia, Zimbabwe, Malawi and Mozambique. Bushlore have several hundred trucks in their fleet, mainly a mix of Toyota Hilux and Land Cruisers. This is a CruC2 spec, for two people (the CruC4 is the same, but equipped for four).
This is the truck in night mode – the Eezie-Awn tent is a best seller in South Africa. It's a little fiddly to pack, but with practice two people can do it in a couple of minutes. The side of the canopy that is sheltered under the tent has a built in kitchen unit and access to the fridge.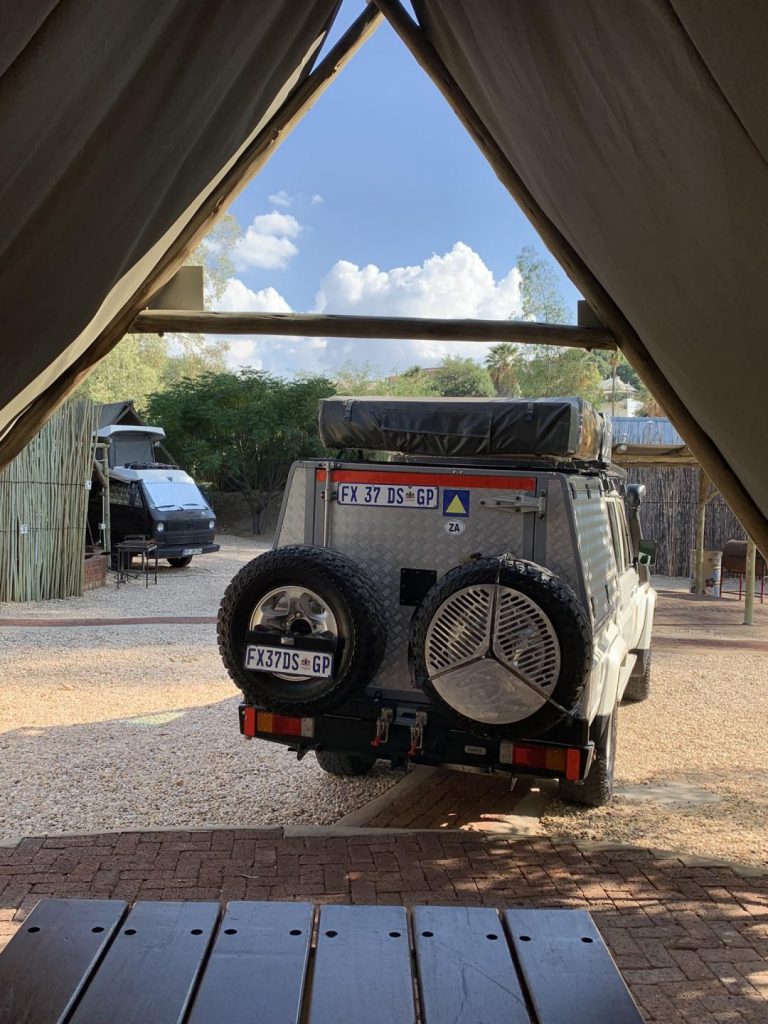 At the rear of the truck are two spare wheels, mounted on two separate arms, which swing out like doors to reveal the canopy door. The right-hand wheel is seen here with the braai (grill) plate strapped over it.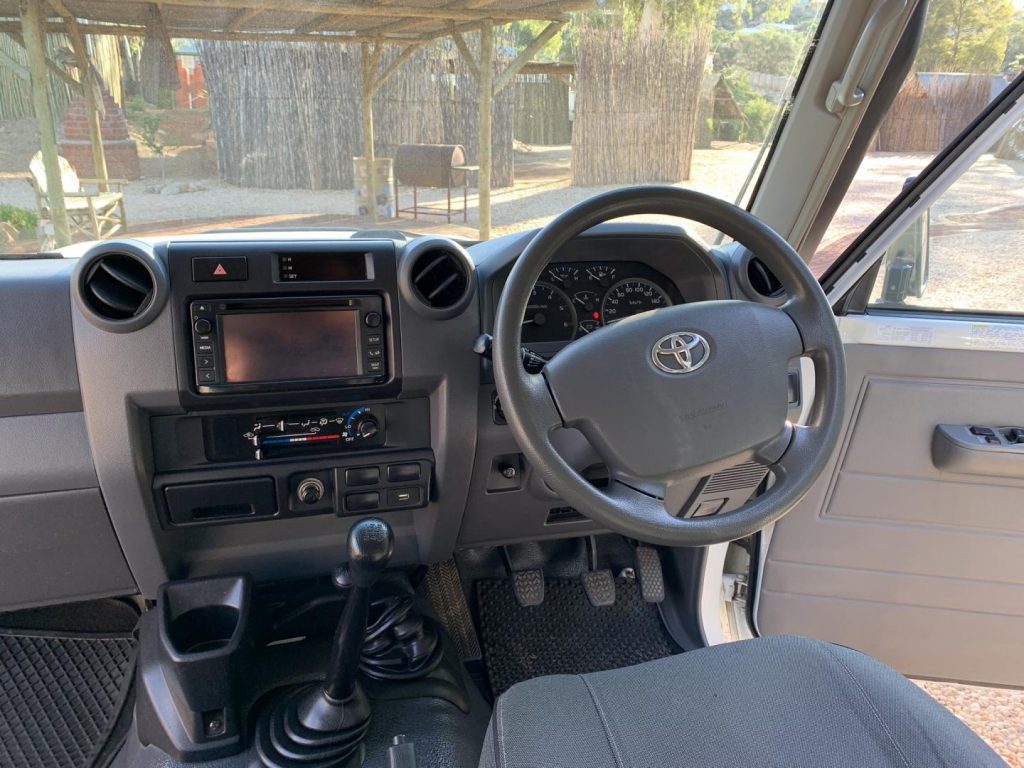 Inside, everything is beautifully simple. There was a basic Toyota head-unit with limited GPS, very ineffective air conditioning and a very problematic electronic immobiliser. There is a manual 2H/2L/4H transfer selector and a five speed manual gearbox. The engine is a 6 cylinder 4.2 litre turbo diesel. There's a 130 litre fuel tank and 2 x 20 litre cans on the roof.
We flew with KLM, who fly from Amsterdam AMS to Windhoek WDH three times a week, with a short stop in Luanda LAD en route. Other options include Condor and Air Namibia via Germany. We arrived early afternoon on 'day 0' of our trip, and then practised using the truck at the very convenient UrbanCamp in the suburbs of Windhoek, where the photos above were taken. This is a very good spot to start and end your trip, with a small pool and excellent bar serving very cold Namibian Hansa draught lager.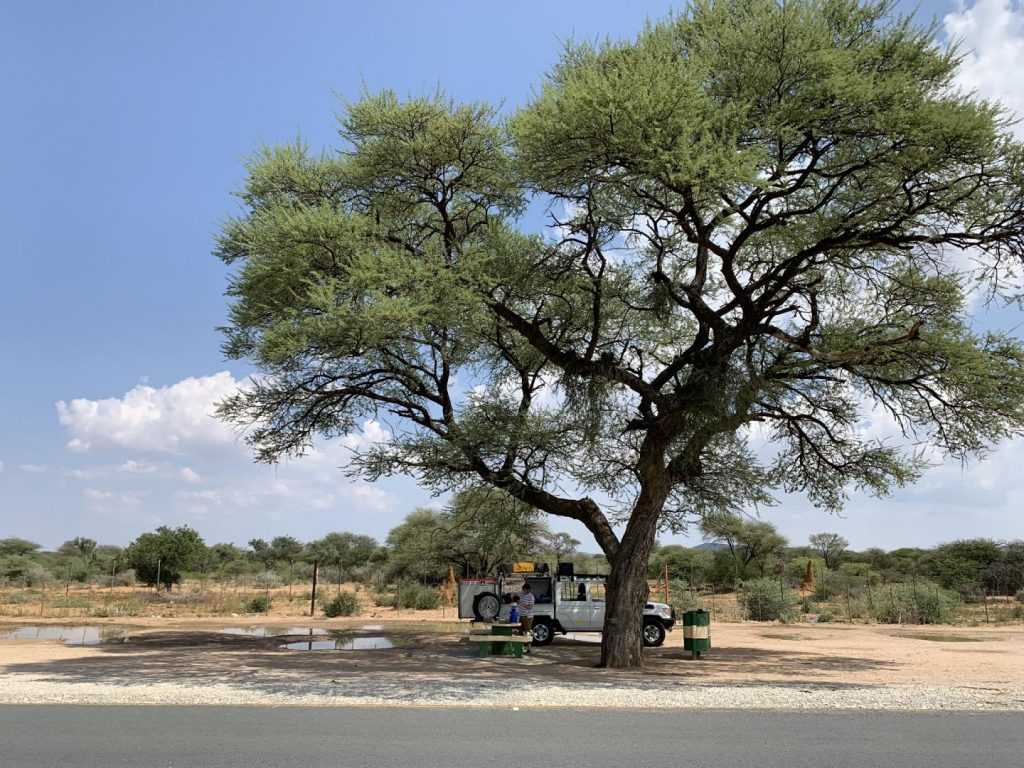 Day one was the first big drive of the trip – about 400km north to the Anderson Gate of Etosha National Park. (Map) With park fees paid, we drove another 100km or so on gravel park roads via Okaukuejo Camp to Halali Camp, where we stayed two nights.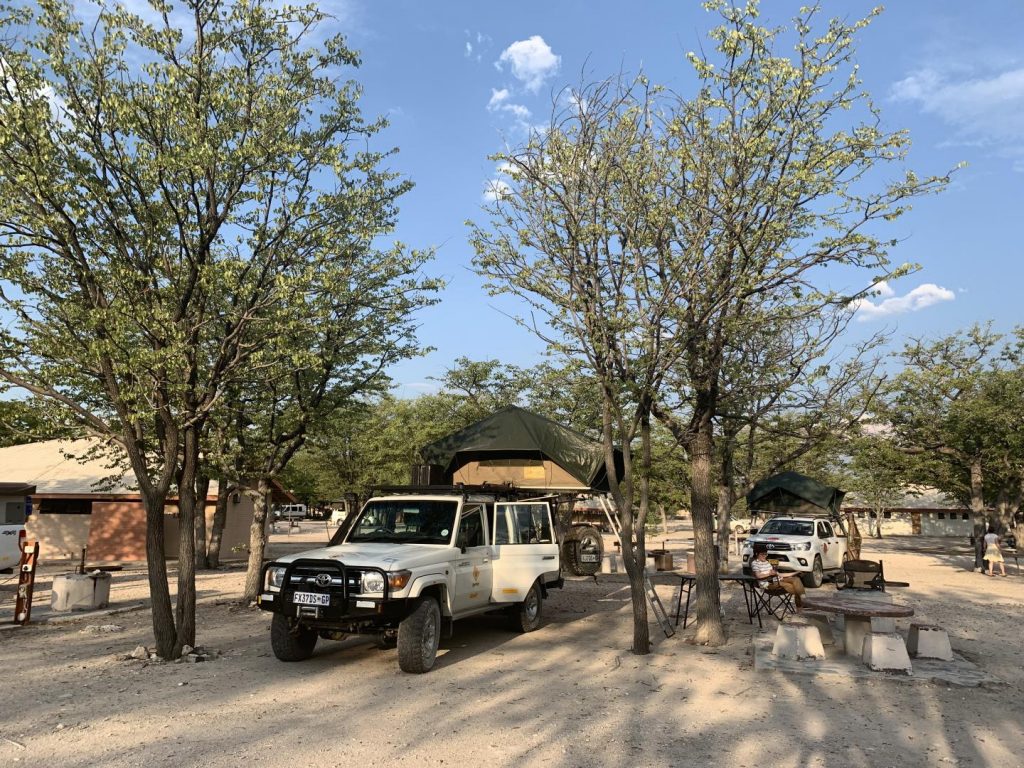 Halali Camp's greatest selling point is its water hole. It's a 5-10 minute walk away, and provides unprecedented viewing opportunities from a secluded and sheltered viewpoint. But the daytime viewing is nothing compared to nighttime…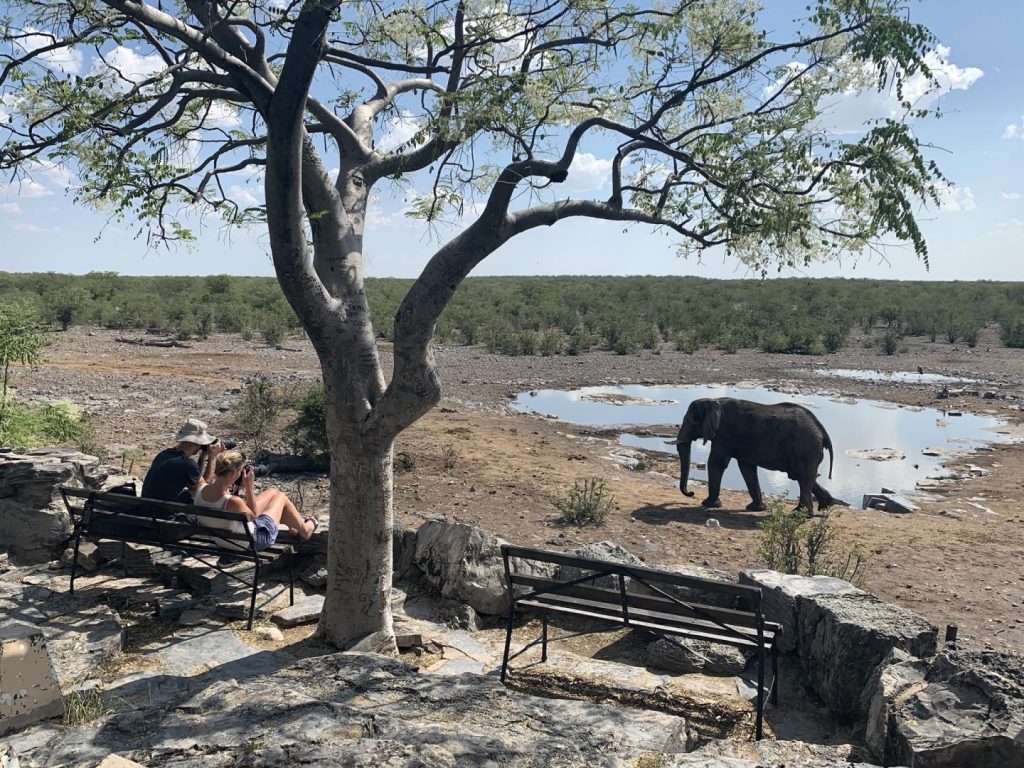 We had secretly dreamed of seeing rhino in the wild, and were speechless to seem them every night and every morning at the Halali water hole. The game driving mentality of most self-drive tourists to Etosha isn't so suitable here. Much better, in our opinion, to rise very early (3-4AM) for pre-dawn viewing by the water hole, followed by a nap and perhaps a short drive later in the day.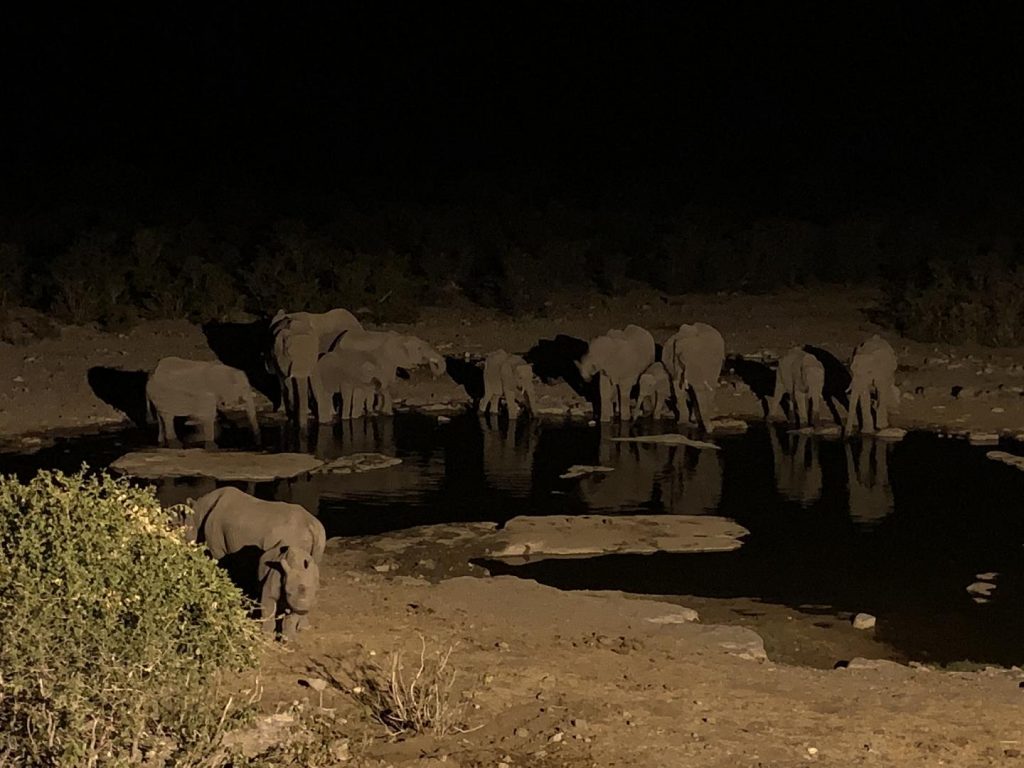 April isn't a great time to do game drives, since most vegetation is in leaf which limits long range viewing. We saw some elephants and giraffe out in the park, but much preferred our time sitting in the darkness by the water holes.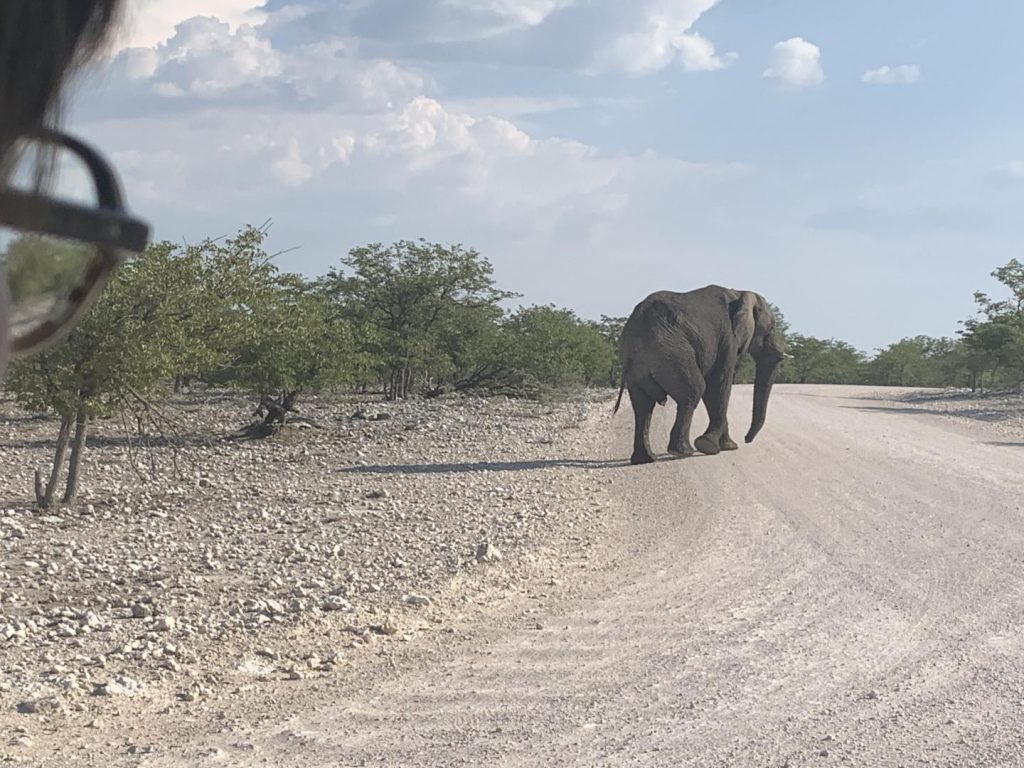 After two nights in Halali we moved to Okakuejo for one night. The water hole and viewing area is much bigger and much closer to the camp here, and seems to breed less respectful behaviour amongst other guests. We much preferred Halali.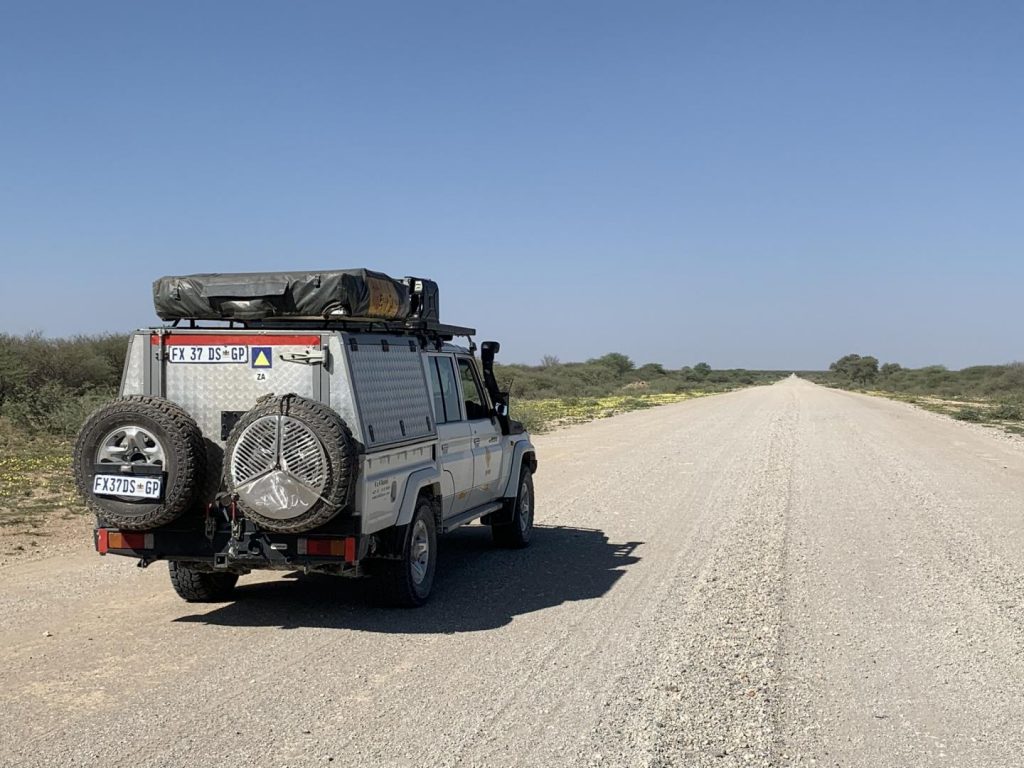 On day 4, we drove about 400km from Etosha to the camp ground at Spitzkoppe Mountain. (Map). B catgeory roads and busier C category roads in Namibia are tar, and generally good but only two lanes wide. Most C roads and below are gravel. This photograph (above) was along the 75km stretch of the M63, between Outjo and a point north of Kalkfeld. This kind of gravel driving is fine – long straight roads, no traffic whatsoever, just lots of fenced-off farmland generally owned by the minority white population.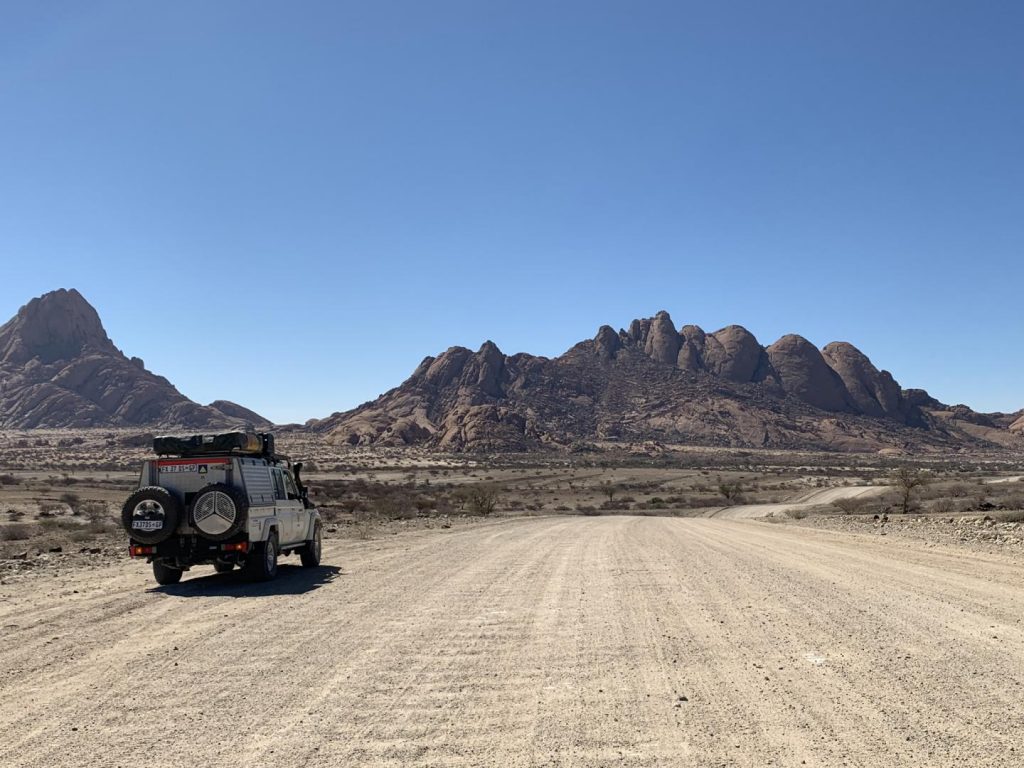 Spitkoppe is a stunning mountain formation in the north-east of the country. Its campsite is community-owned and operated, which a number of beautiful pitches arranged 200-500 metres apart from one another around the base of the mountain. For very little money, you can hire a guide to drive you to normally inaccessible sites with cave art and wall painting.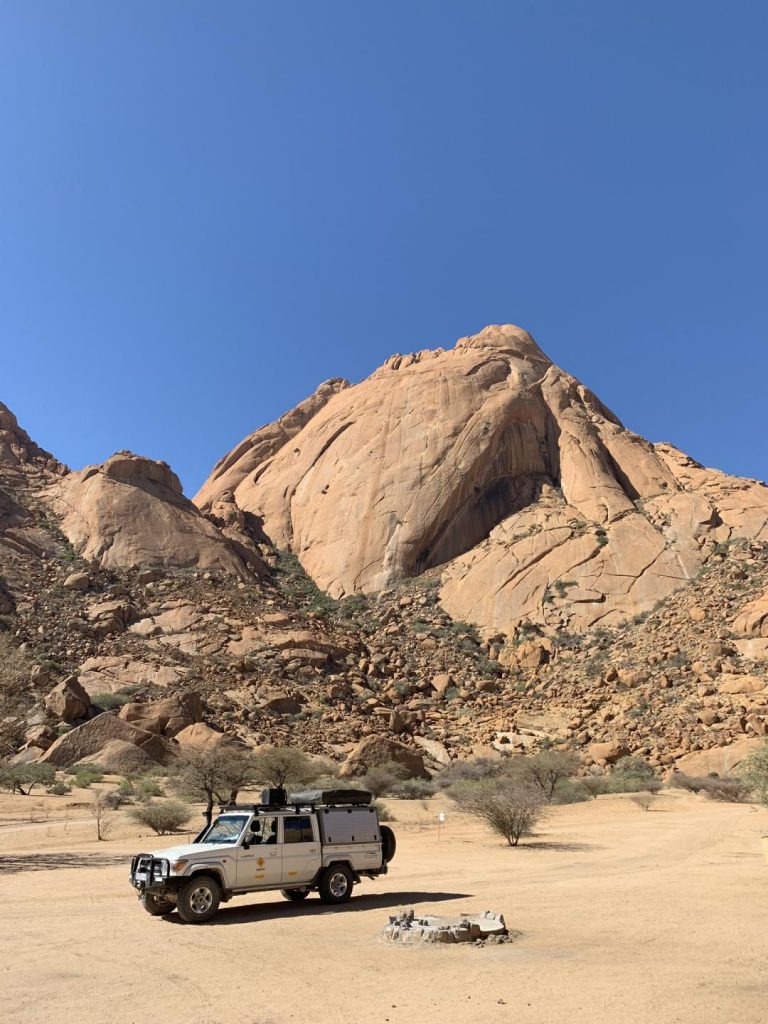 Our pitch! So in demand, a German couple approached us towards the end of day 6 to find out if they could snatch it as soon as we left the next morning. They were waiting to pounce the moment we drove away…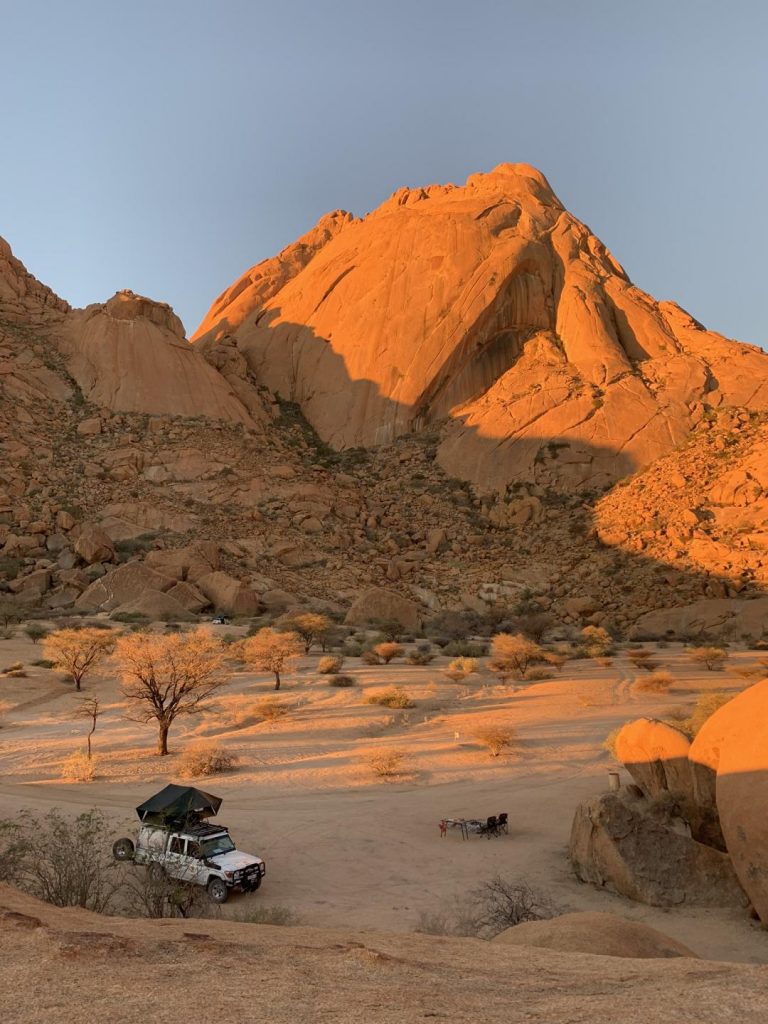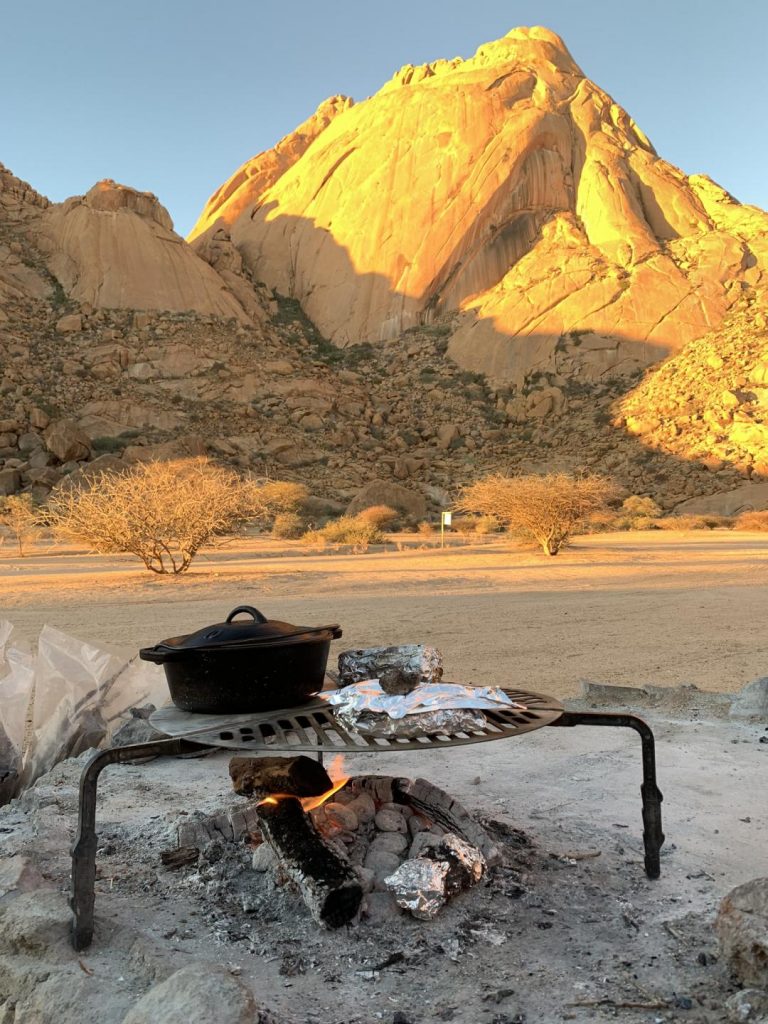 The next day involved the greatest sequence of errors of the trip. Remember what I said earlier about not rushing?
Our next reservation was a remote camp site a the Büllsport Guest Farm. The transfer involved almost 500km of driving, via the B2 to Swakopmund and the C14 to Solitaire. We stopped for coffee and shopping in Swakopmund and Walvis Bay, and then began the longest stretch of the trip across the Namib Desert. Almost immediately after leaving Walvis Bay, the road turned to gravel, and we stopped to lower the tyre pressure around the vehicle. (The truck is equipped with a compressor that hooks onto one of the two car batteries for re-inflating them later).
The road has two 'passes' – and reading the map I had misinterpreted these as shallow mountain ranges. They are in fact river passes, when the road drops suddenly into the river valley. As we exited the Kuiseb River Pass, easing the 3000kg truck up quite a steep gravel road in second and third gear, I over-did the speed on a crest which was quickly followed by a sharp turn left.
My instincts got the better of me, and I over-reacted, sending the car into a fishtail swerve. We swung right and left about four times, each time getting more out of control, until the front wheel of the car caught the bank of gravel pushed the side of the road by the grading machine, and we came to a stop. The skidding was quite alarming – worse than on ice – and made much more serious by the weight and height of the truck. We had also neglected to refill the large water tank that morning, thinking it better not to carry the extra weight when we knew water would be available at the destination. The motion of the water sloshing left and right in the tank undoubtedly made the situation worse.
When we stopped, we opened our doors and surveyed the situation. To our left was a very large drop. Had the car rolled, the accident would have been life-changing, if not life-ending. Traffic was sparse, and even assuming anyone had found us, an ambulance would have taken several hours to arrive.
We continued, my confidence and my speed severely reduced. We made it to Büllsport several hours later. I had a beer. Several beers in fact. I'm very grateful to my wife for not exploding in anger at my stupidity, but helping me rebuild my confidence afterwards. 
We spent two nights at Büllsport, which consists of a large guest farm with horse riding and hiking trails. About 5km to the south are a handful of remote camp sites, and the Bull's Head pitch is equipped with a basic ablution block and donkey boiler (painted red in the photo) which can quickly heat water over a log fire.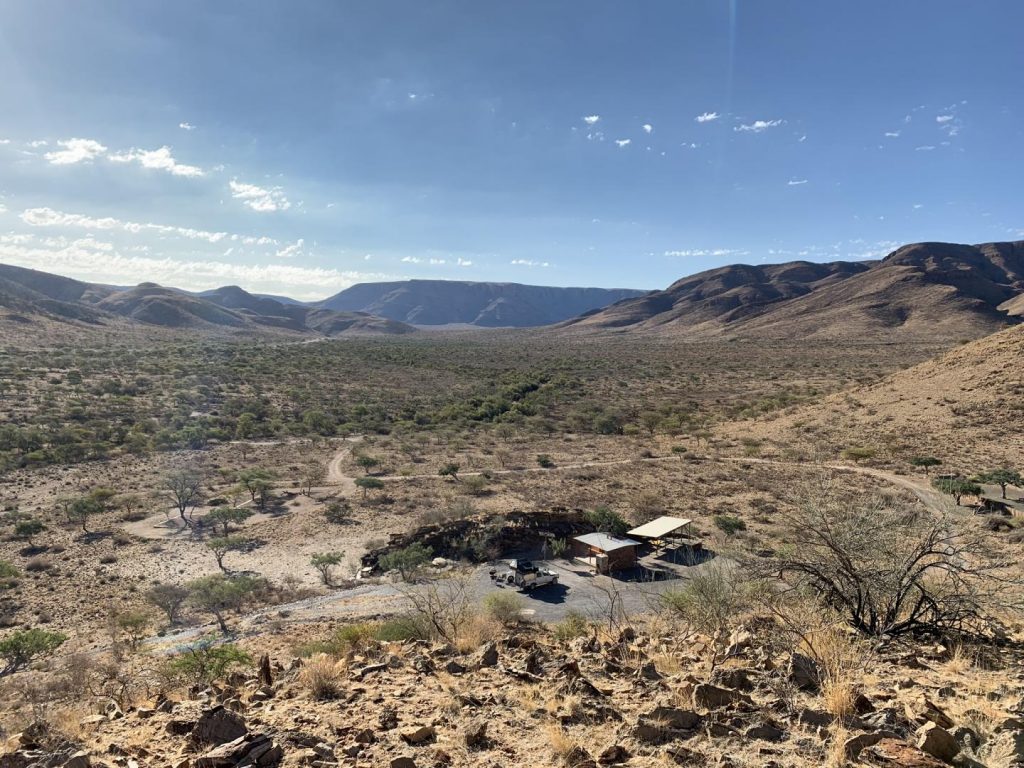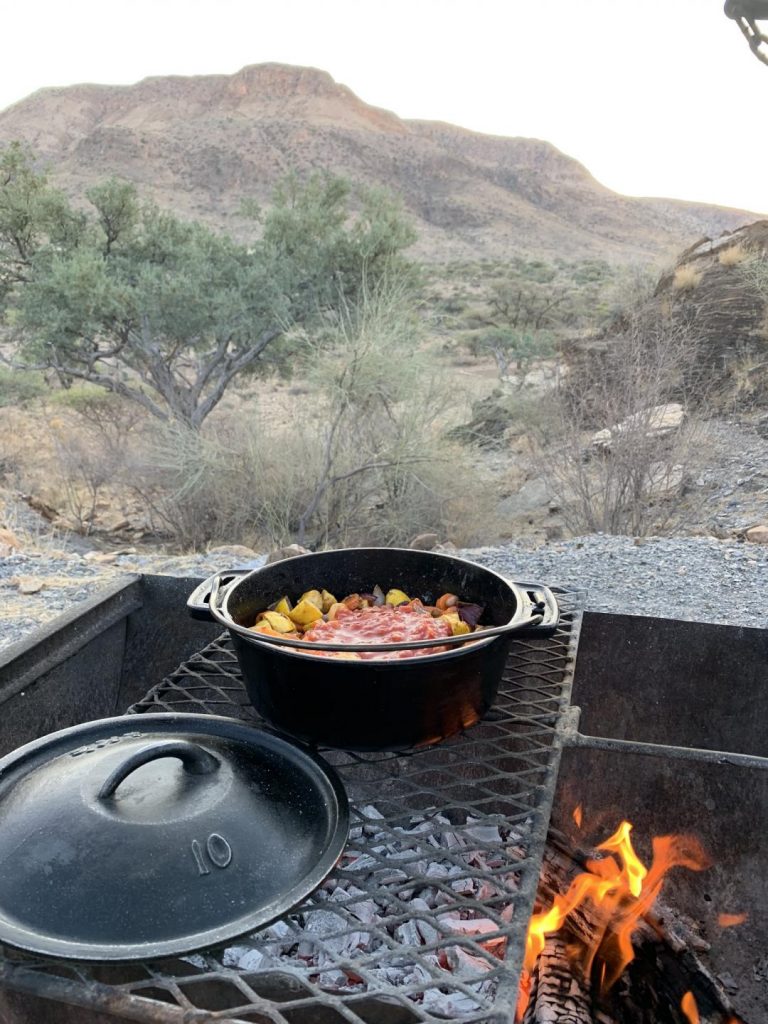 Other camp equipment includes chairs and a table, which folds and is stored under the roof rack. The configuration of these trucks has been refined over many years, and Bushlore know exactly what to provide and what not to provide. Optional extras include Tracks4Africa GPS, shower kits, 2-way radios, etc.
We stayed two nights in Büllsport and then continued to the Sesriem Camp at the Soussusvlei National Park. We took to the northern route (map) to avoid bad road conditions on the shorter southern route, and for a coffee stop at the famous Solitaire gas station. This was probably the most populous place we visited in Namibia, with hundreds of self-drive tourists and overland bus tourists. We drank up and got back on the road ASAP.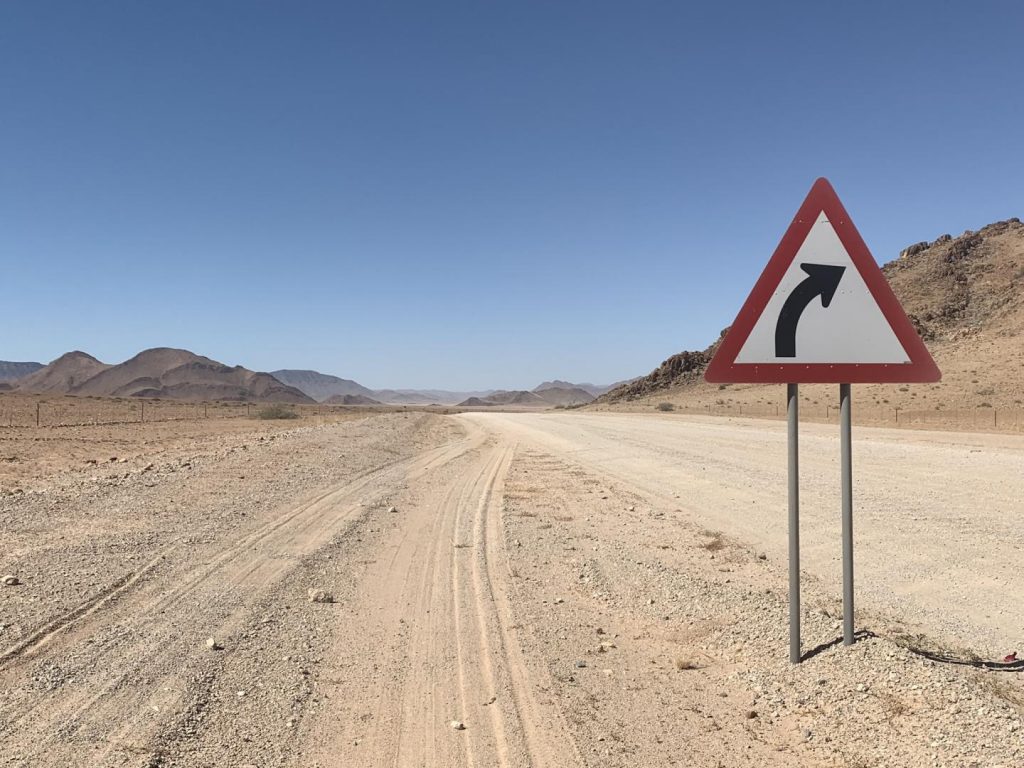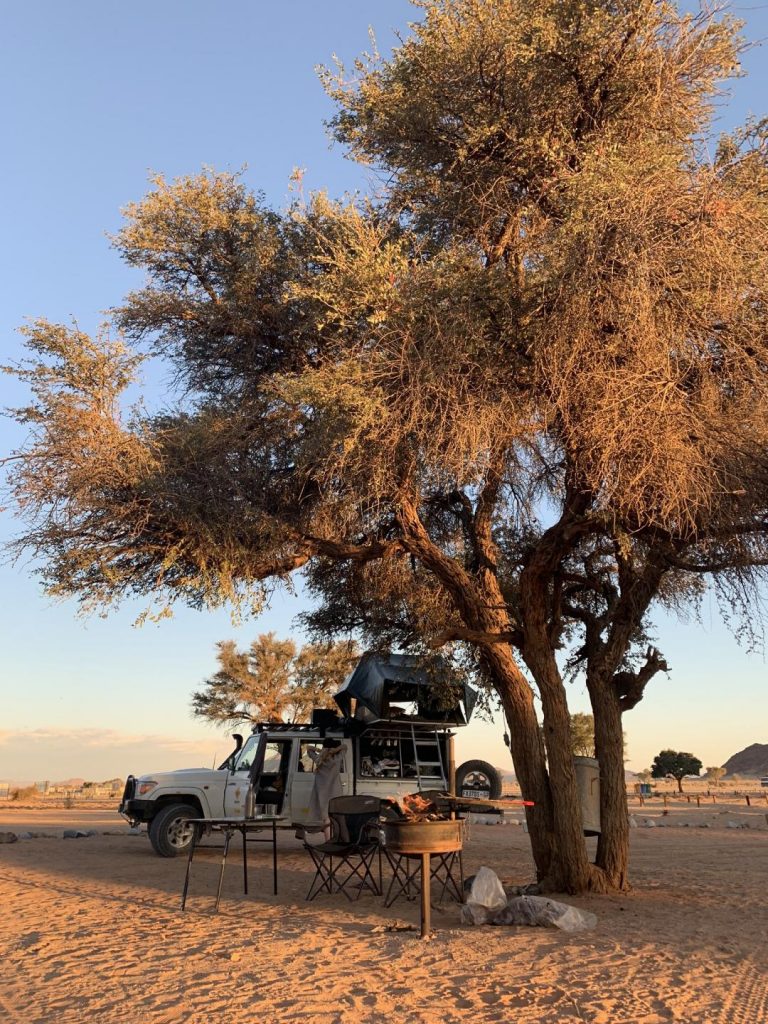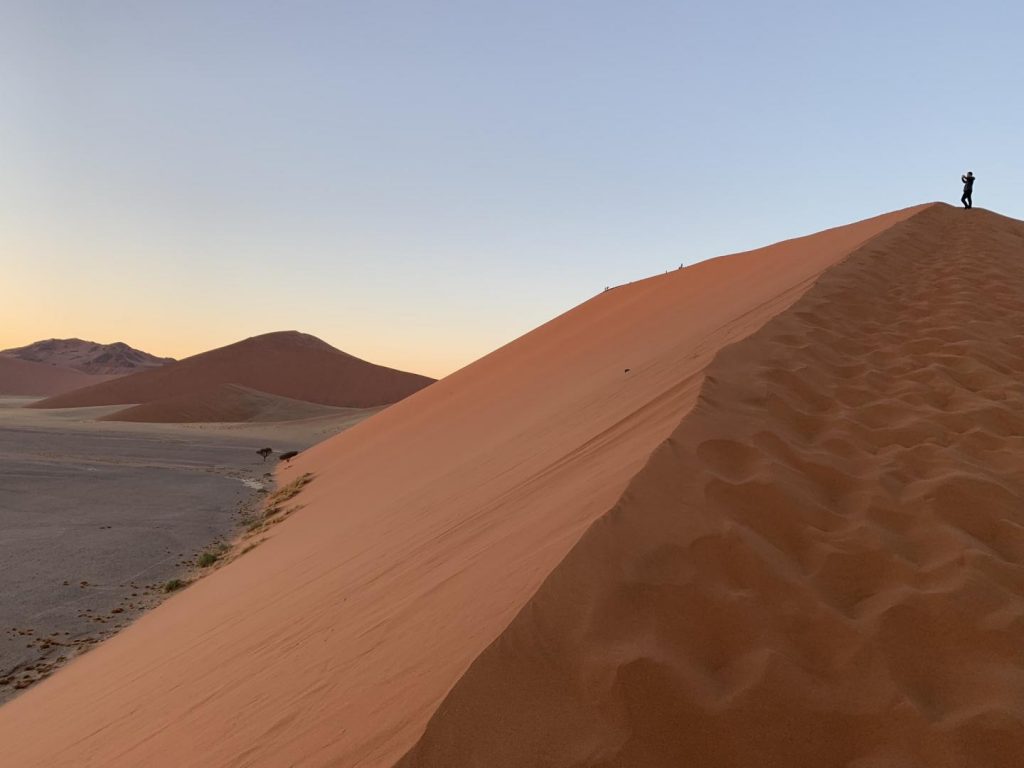 The prime reason to camp at Sesriem is to wake up inside the Soussusvlei National Park on day 9, and to be allowed to drive in one hour before people staying outside the park. This allows you the chance to scramble up the famous sand dunes, which no photograph can do justice to.
About 60km into the park, the tarred road ends, and non-4×4 traffic must stop. The park runs a shuttle pulled by a tractor the last 3 or 4km to the Deadvlei parking lot. 
It's not just 2×4 cars that stop here. We paused next to this rig to take a photo for scale… the MAN truck has German license plate.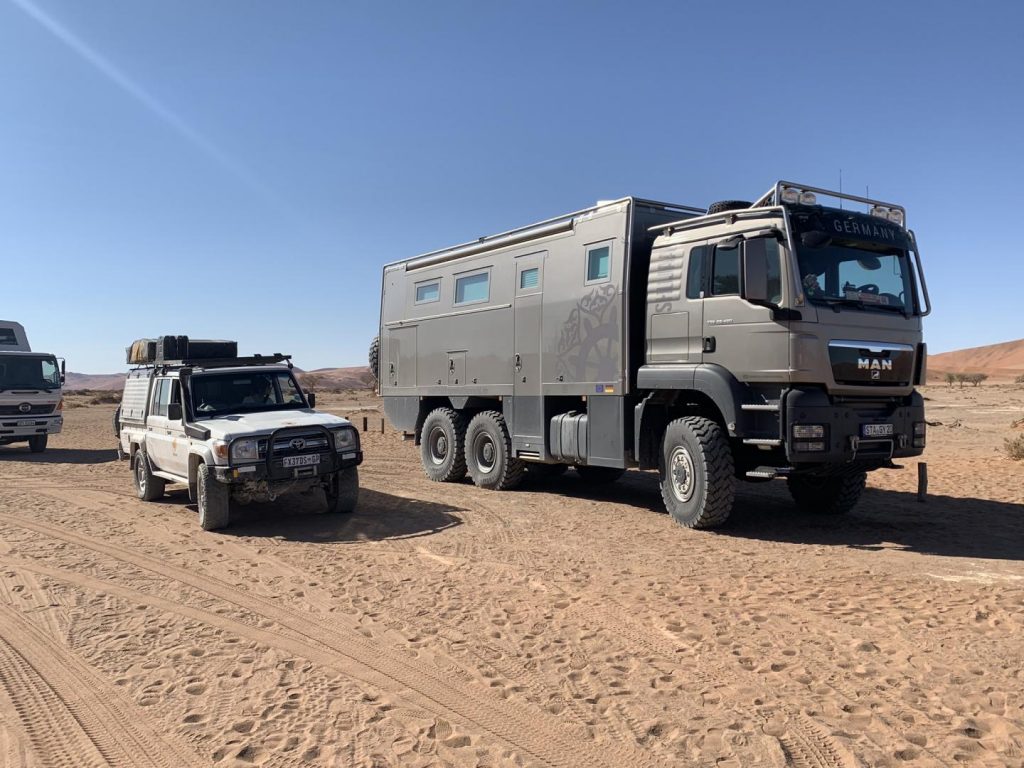 Despite lots of warnings that only 'normal 4×4' vehicles could make it, we passed two Renault (Dacia) Duster hire cars which had become stranded in the thick sand. This was must first sand driving experience, and quite a thrill, perhaps only because we made it without getting stuck. From there, it's a half hour walk over the sand dunes to the famous Deadvlei.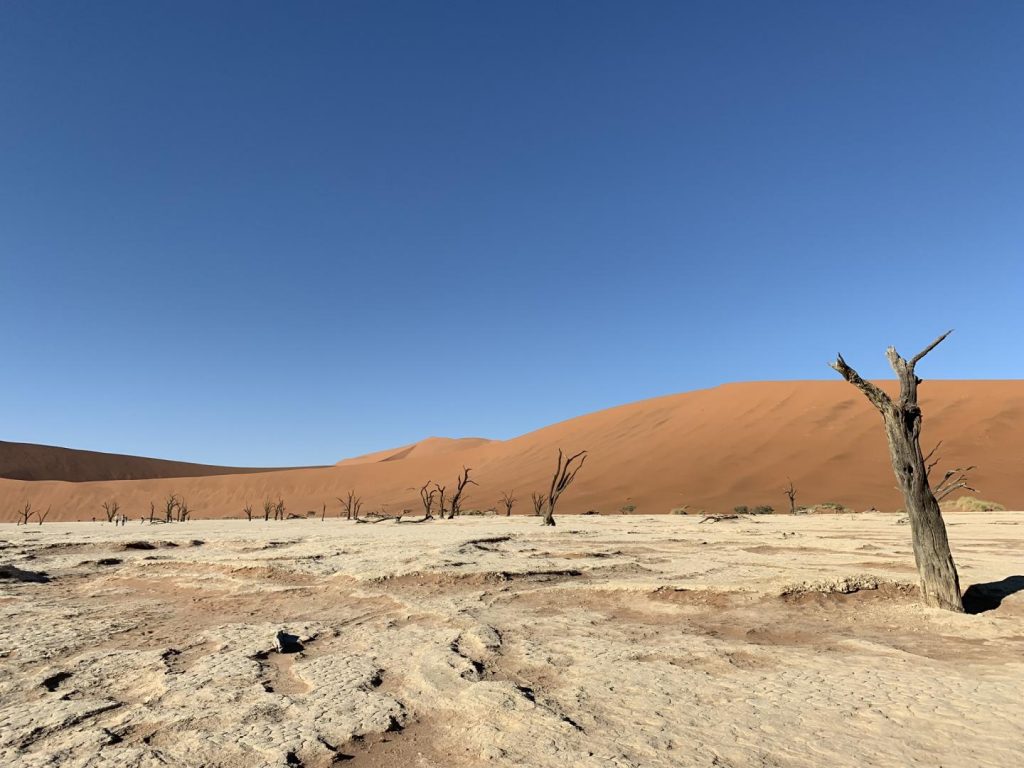 We had been in the park since dawn, and by midday the Deadvlei was getting incredibly hot. We trekked back, and began the final day's drive, about 300km (6-7hrs – map) via Mariental to a lodge on the edge of the Kalahari. We stopped here to spend just one night in some luxury, but left the next morning wishing we had just camped.
Day 10 involved a 300km drive up the B1 highway to Windhoek (map) and a lift from Bushlore's offices to the airport. My wife returned to Europe with KLM, and I flew to Johannesburg with Air Namibia to continue my trip.