[dropcap]F[/dropcap]ull-grown 4X4? Say what? For the common reader this doesn´t make much sense but that´s what we, Overlanding.nu, has named this tour that we do on irregular occasions. What it really means is that this particular time you can´t bring the trusty old family car – except if it´s not a full-grown 4×4 with all the extras – hence the name.
In august 2016 we did a similar tour and it was a great success – actually it was such a success that people begged us to do it again. The problem, or more so, the challenge with organizing such a trip is that A: Do people really understand that they can´t bring the Volvo V70 with All Terrain tires and a " fck yeah!! attitude " and B: – this is the worst holdback in my mind – you can´t drive everywhere you want even if both tracks on the map and tracks IRL seemingly tells you that you can – the Swedish Right of Public Access is really strong but it limits you as soon as you are in a car or on a motorcycle by obvious reasons.
In despite of the two reasons above, we – Mr Eriksson and myself – decided to do it again. And if I might say so – with the same brilliant result as of two years ago 😉.
The participants and guides met at the town Årjäng in the afternoon the first Friday in November. Do I need to tell you that it was raining and it was getting dark already at 1530? Well that's what Autumn outdoor season is all about here in Scandinavia – wet, dark and challenging – not in a perverted way….
Just after leaving Årjäng on E18, the " highway " that links Oslo with Stockholm – or the other way around depending on who´s describing the route – we took a hard left and left the bitumen and got gravel. After a short stretch on the gravel we came to the first obstacle on this route – a river crossing… Damn that river crossing was a cake walk… The water nearly reached our rims 🙁. But that´s how it is. This summer has been one of the better ones since Jesus was wearing shorts and Mother Nature has still not recovered from that – water wise that is. Soo me being concerned about the ground being too wet, the convoy leaving too deep footprints, this thought might be just needless concern from my side – or not…
We left the thrilling river crossing and headed towards the next challenge before hitting camp. This challenge was in form of a tractor road and I really mean tractor road. At least it was the last time we drove it. I guess it had been prepared for some timber hauling business or something like that because the nice and firm ground that was there last time was now changed into a sloppy mess of mud and rocks. Well, well. It was just to put the car in low gear, tell everybody over the radio what was in head of us and dive straight into it. Everybody came out of it without too much recovery but I think at least one car needed help to get unstuck because of all the mud.
After leaving this refreshing adventure, the road turned to gravel again and we were getting closer to camp. Approximately 300meters from camp a fallen down tree blocked our way. I didn´t even had the time to put the microphone to the VHF back – after informing the rest of the group about the tree situation – before one of three chainsaws was roaring to life. One of our participants, Mattias AKA Jonas, was showing some mad skills with this type of tool and the tree really didn´t stand a chance. In less than two minutes the tree was chopped up in manageable sizes and pushed away. 3 minutes later we rolled in to Camp Jonas, named after one of our good Overlanding friends that found this camp a few years ago.
We tried to organize the queue of cars into: Cars with roof top tent, cars with tents on the ground and cars with drivers sleeping in them. We did a fantastic job! Not at all actually, but it was pouring down rain and it was pitch black, so all in all – good job on us 🙂.
I think we reached camp at 17.30 and that was 30 minutes ahead of my schedule. But we needed that extra time to rig tents and some sort of shelter and windbreaker for the common well-being around the campfire.
Closer to 19.00 all tents were up and we had a mighty fine-looking shelter – then it stopped raining…
We found a few dry spruces that we, again with help from Mattias´s excellent skills with the chainsaw, took down and chopped into perfect Full-grown-bonfire-sized logs. At 24.00 I think we all went to bed, at least I know I did.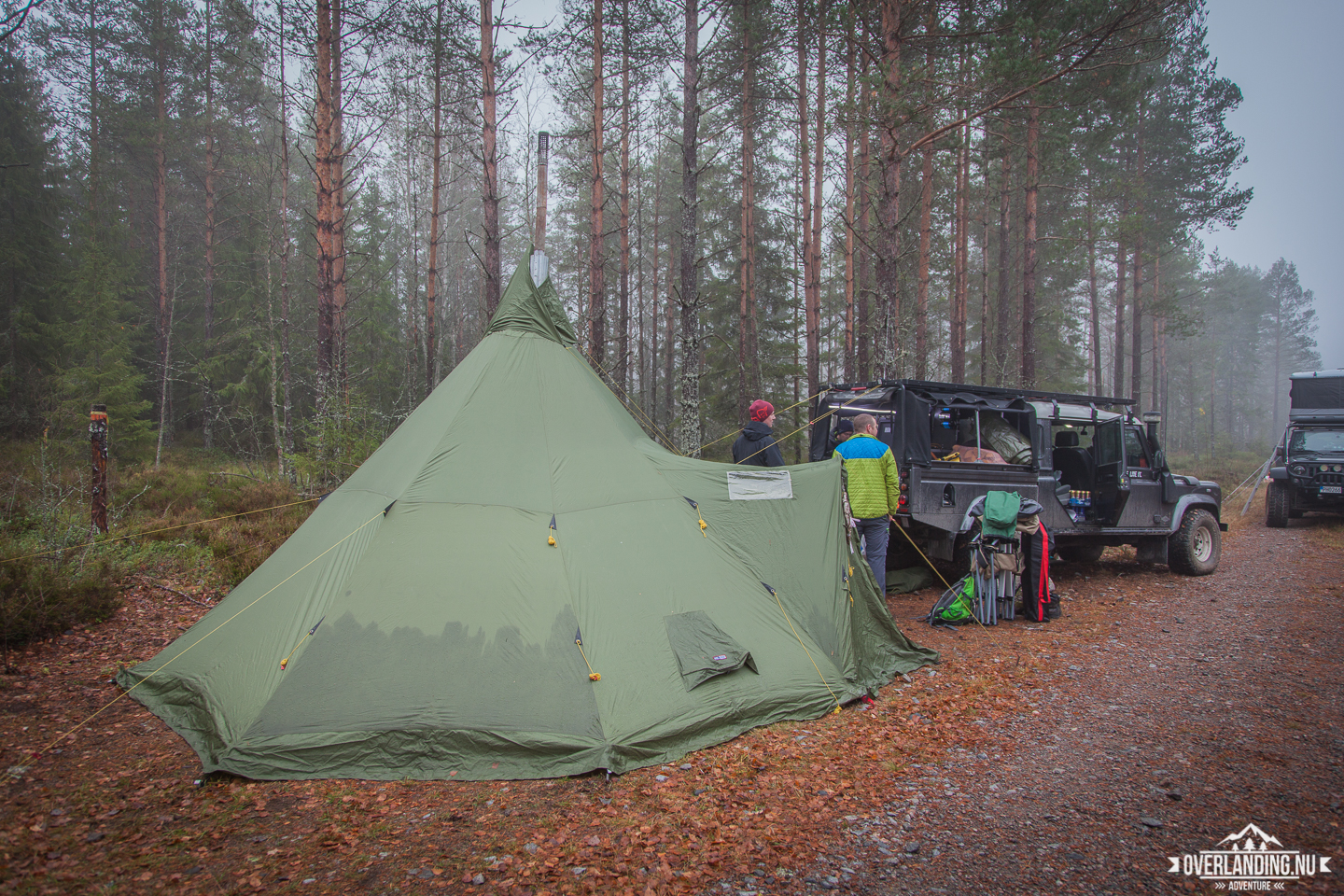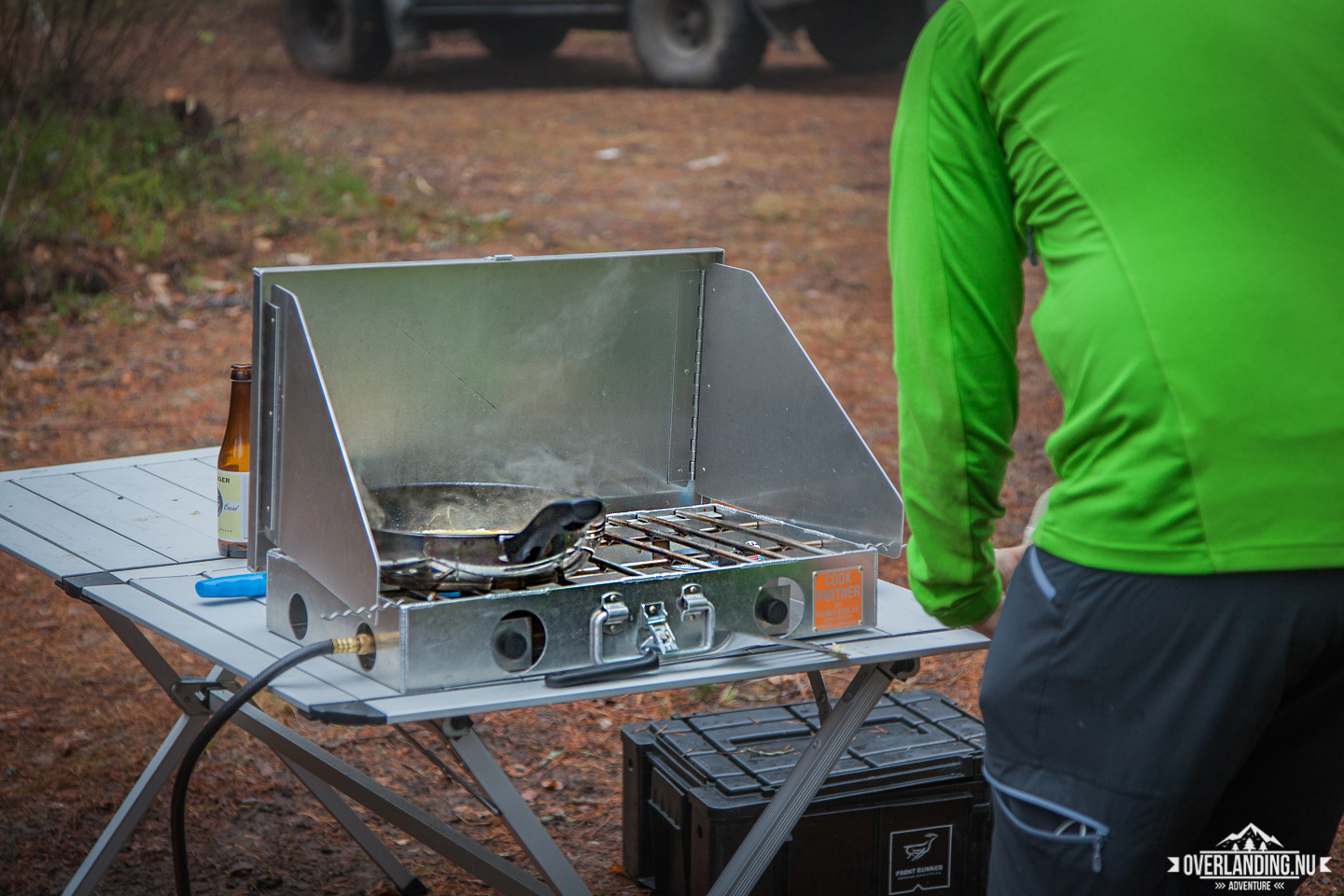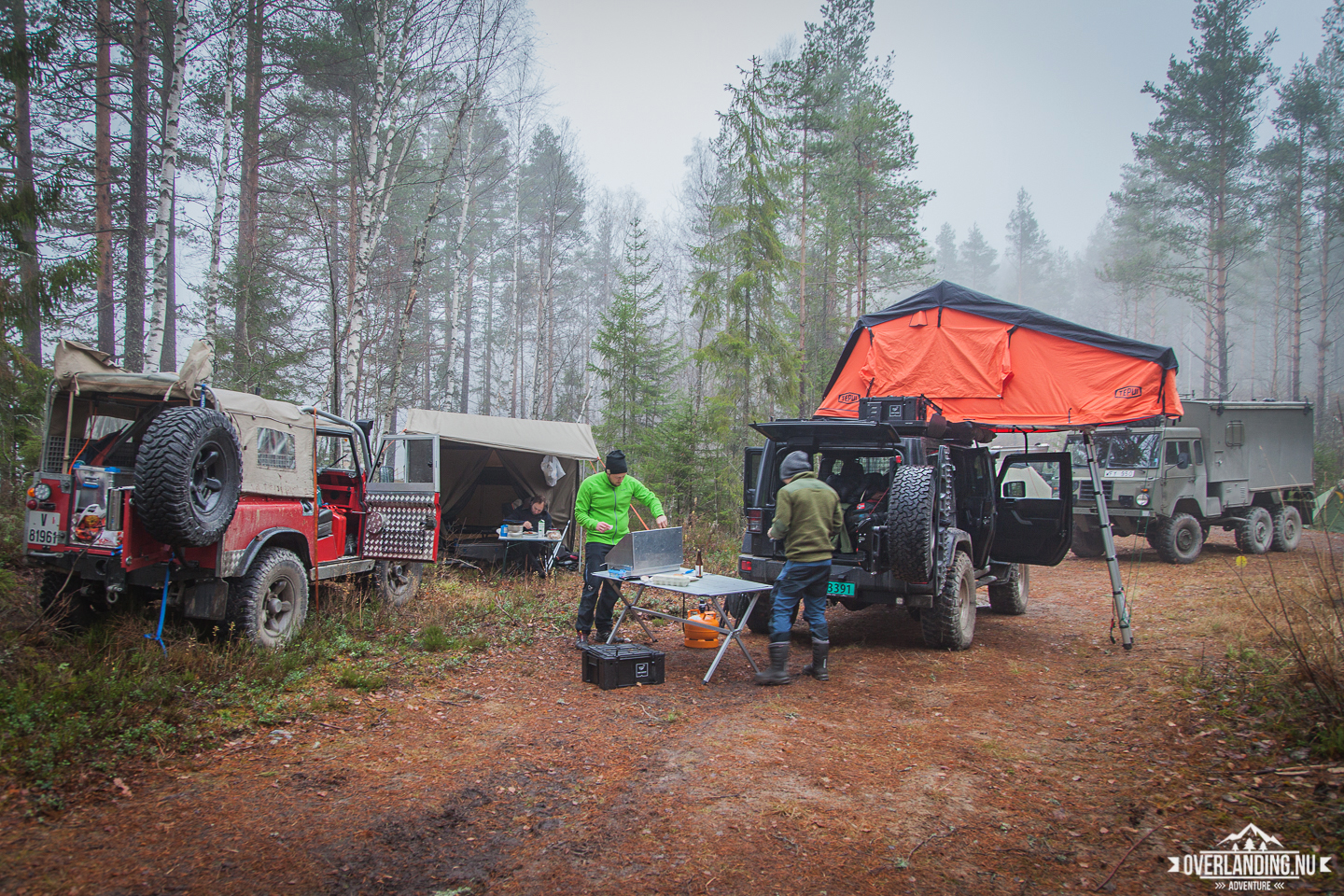 Saturday morning started pretty grey with rain hanging in the air but we were lucky enough that it didn´t start to rain while we were having breakfast and was rigging down camp. After a short drivers-meeting we headed towards the first track of the day – Road of Bones II. Unlike its predecessor, Road of Bones witch we were to drive later this day, RoB II is actually a quite nice drive with only a few gnarly passes. In clear weather it also gives a roomy feeling without being in the mountains. Hard to explain, join us on one of our tours and we´ll show it to you 😉.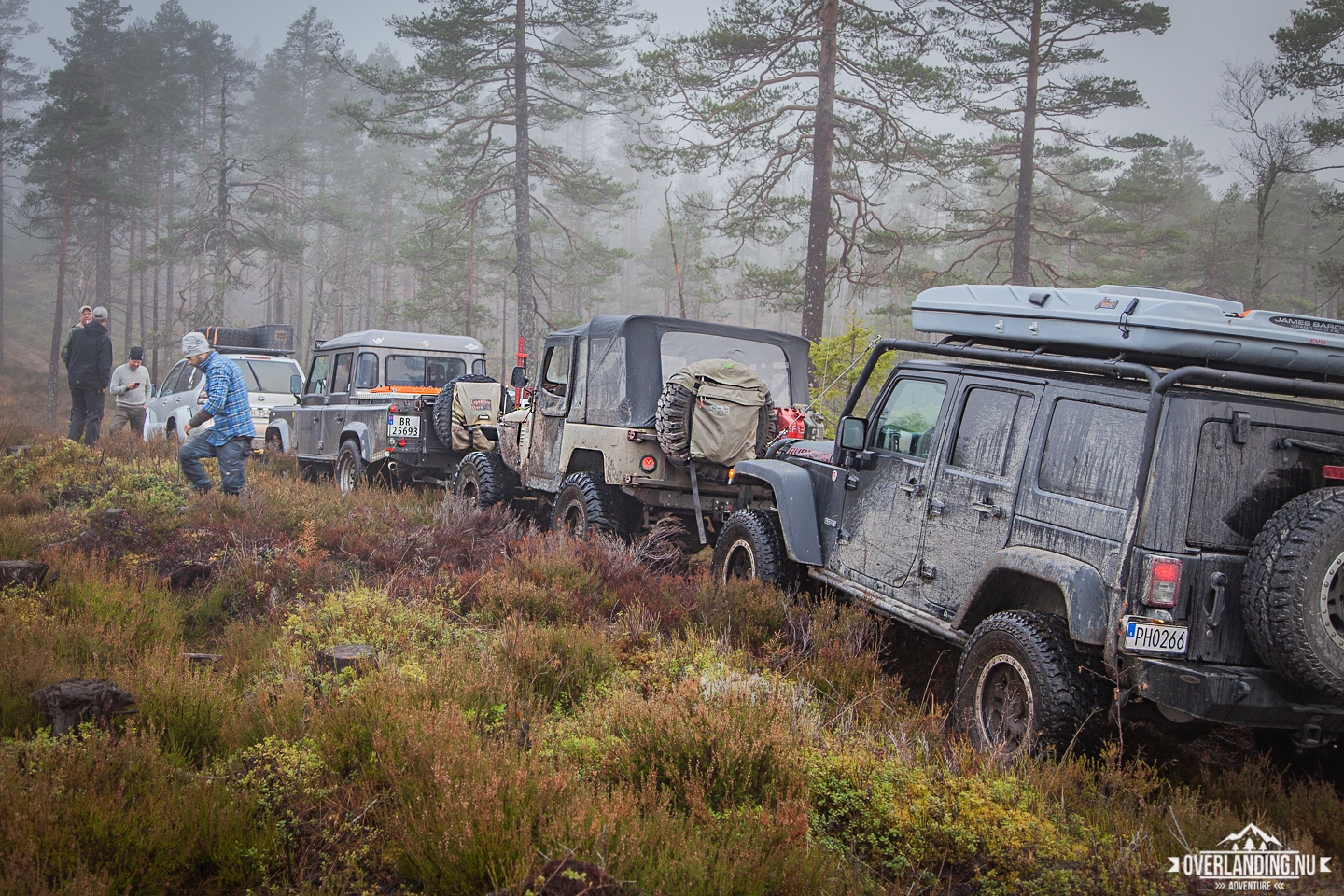 Everybody passed through without too much struggle but it was a few cars that needed some extra help to get out of the mud but hey!, that's a big part of this kind of trip. You get to use all of that gear you keep hauling around and you also get to help your friends – or get helped by the same.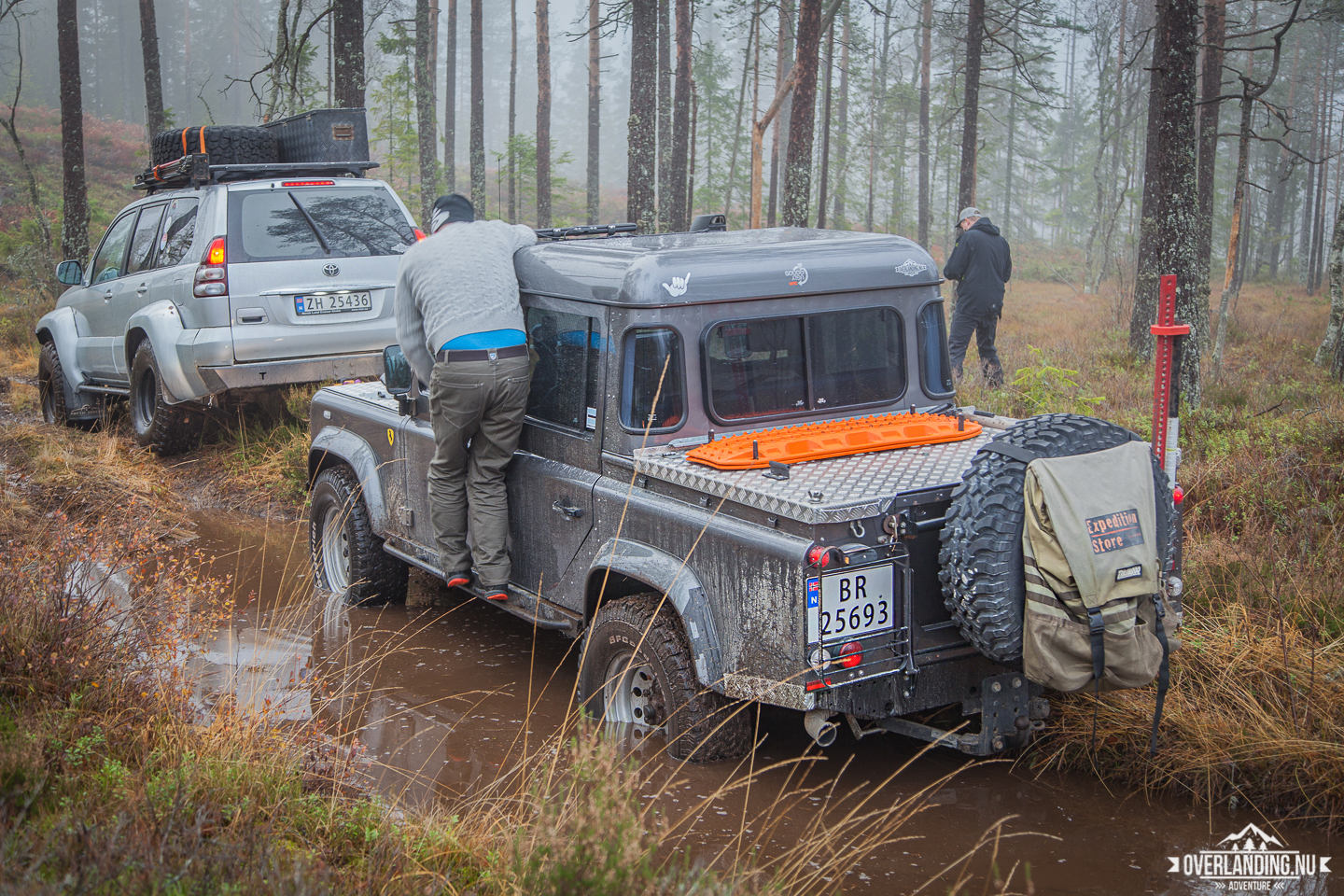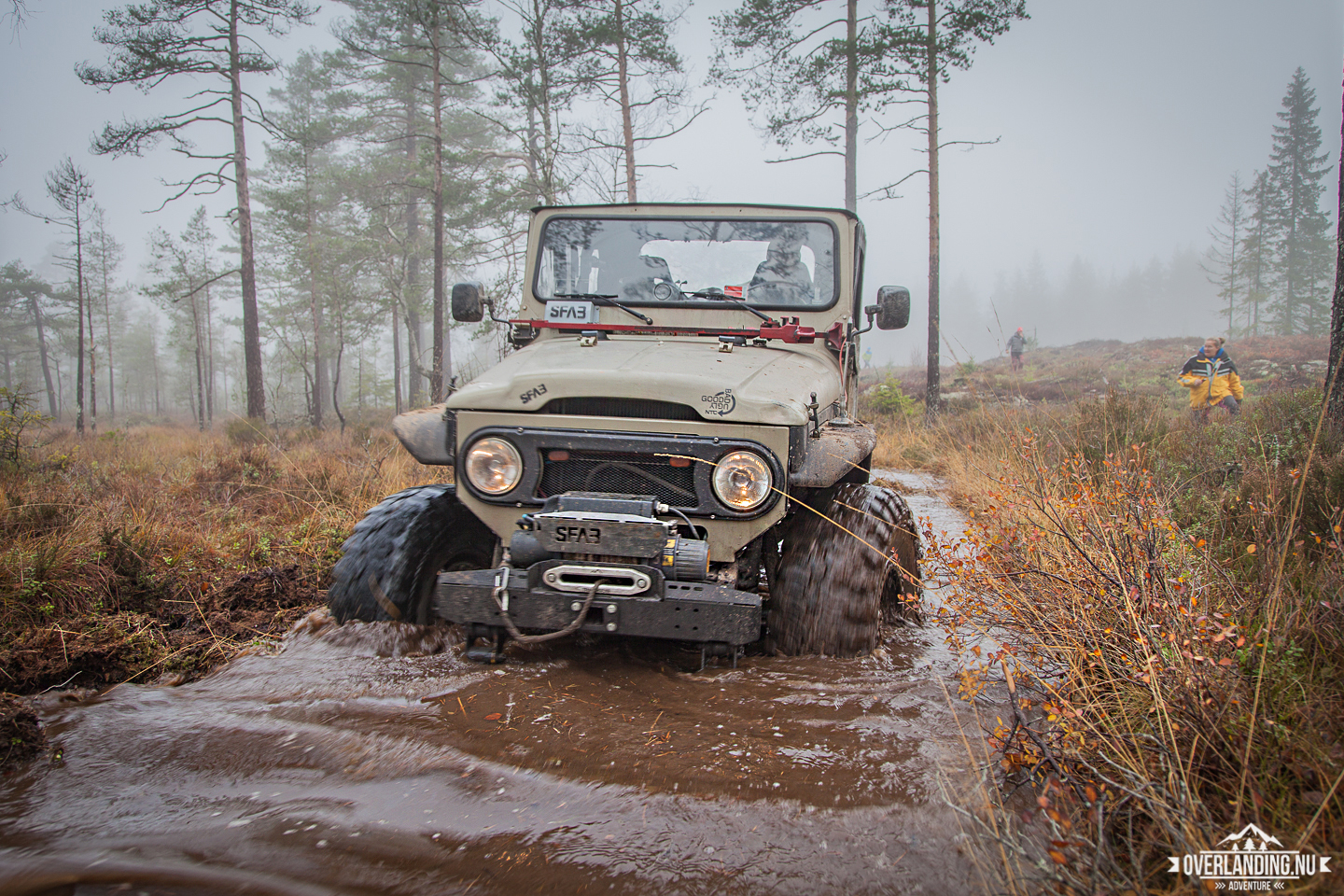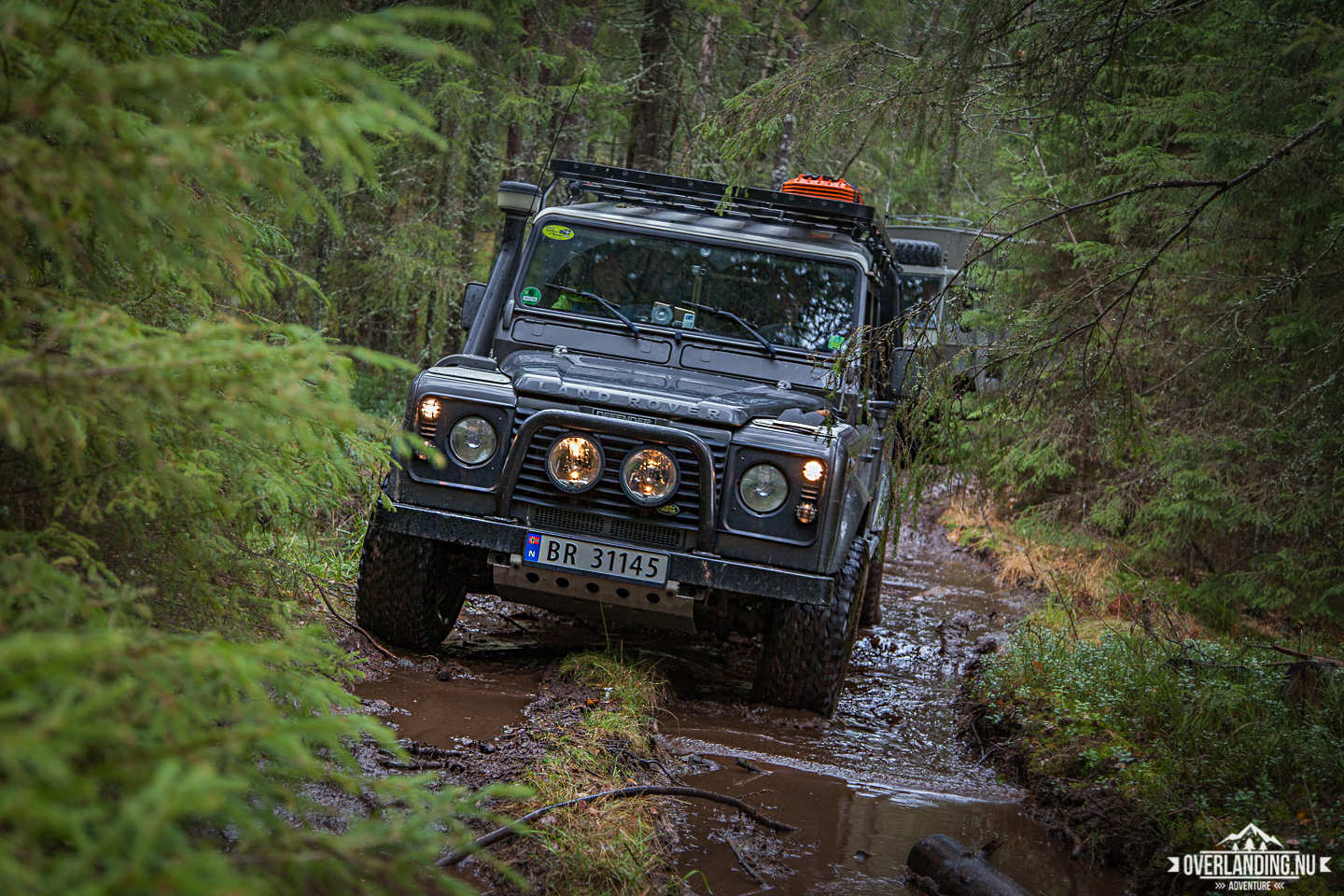 After regrouping at the end of RoB II, we sat our course towards the town of Arvika, driving through Glaskogen Naturreservat on nice gravel roads with some really nice views and a lot of potential campsites for a later expedition to these parts of Sweden. 50kms before Arvika or so, we hit bitumen and nearly a few deer… Amazing what ability they have to pop out from nowhere these creatures. We missed a few wild geese too so if we wanted to, we could have had one hell of a wild game dinner later that night.
In Arvika the plan was to stock up on whatever we needed of supplies and then head on into the wild. I have to admit that I totally missed that it was some kind of holiday in Sweden this day so the world-famous liquor store Systembolaget was as closed as they come… Now that´s a shame…
We stopped for a total of 60 minutes in Arvika, evenly distributed at stocking up supplies, refuelling and going to the restroom. Hugging trees is still one of my biggest Achilles heels when it comes to Overlanding…
We left Arvika heading for more gravel that eventually would take us to more tractor roads in various conditions. After being tricked by my co-pilot Thorstein we left the bitumen and were yet again on nice gravel roads. Both my co-pilot and myself are what you could call map-nerds. What it means is that we like studying maps to see where they, or more precise – the roads they contain, can lead us. Suddenly we found a small track on the map that looked like a nice and exciting shortcut. A question one always has to ask oneself when alternating the set route is A: Is this worth it? B: Are you really really sure about that? C: How mad can your friends get if it turns out to the worst…
But then again, the world is full of statements like: No Guts, No Glory; Who Dares Wins etc etc.
We decided to make a 90degrees left and was storming into the unknown. It turned out to be a really nice, winding and all but smooth gravel road. But the best part was at the end – an extremely steep descent that, in wintertime, never will see a snow-plow! We struck gold in my opinion. If we come back this winter I´d say that we´ll use the better part of a week-end to climb that hill 😀.
Encouraged by this finding we hurtled on to our next small track, close to the town of Charlottenberg. Last time we drove this track we were coming from the other end of it and that can actually be a big difference of how to drive it. A difference that I would get to feel on, in my truck. In the beginning it´s nothing but uneven ground with the occasional rock here and there – nothing to worry about really. But at the middle and in the end it´s more like a lot of rocks hidden in mud. Lucky for me I have my skid plates but still – the sound of metal being dragged over rocks – I just can´t get used to it. And just to really manifest the shitty situation I found myself in, my wheels slipped and I slid down in a track from a machine with significant bigger wheels than my 35inch tires. Just when you think it can´t get any worse you find your Judas of a co-pilot live streaming everything on Instagram…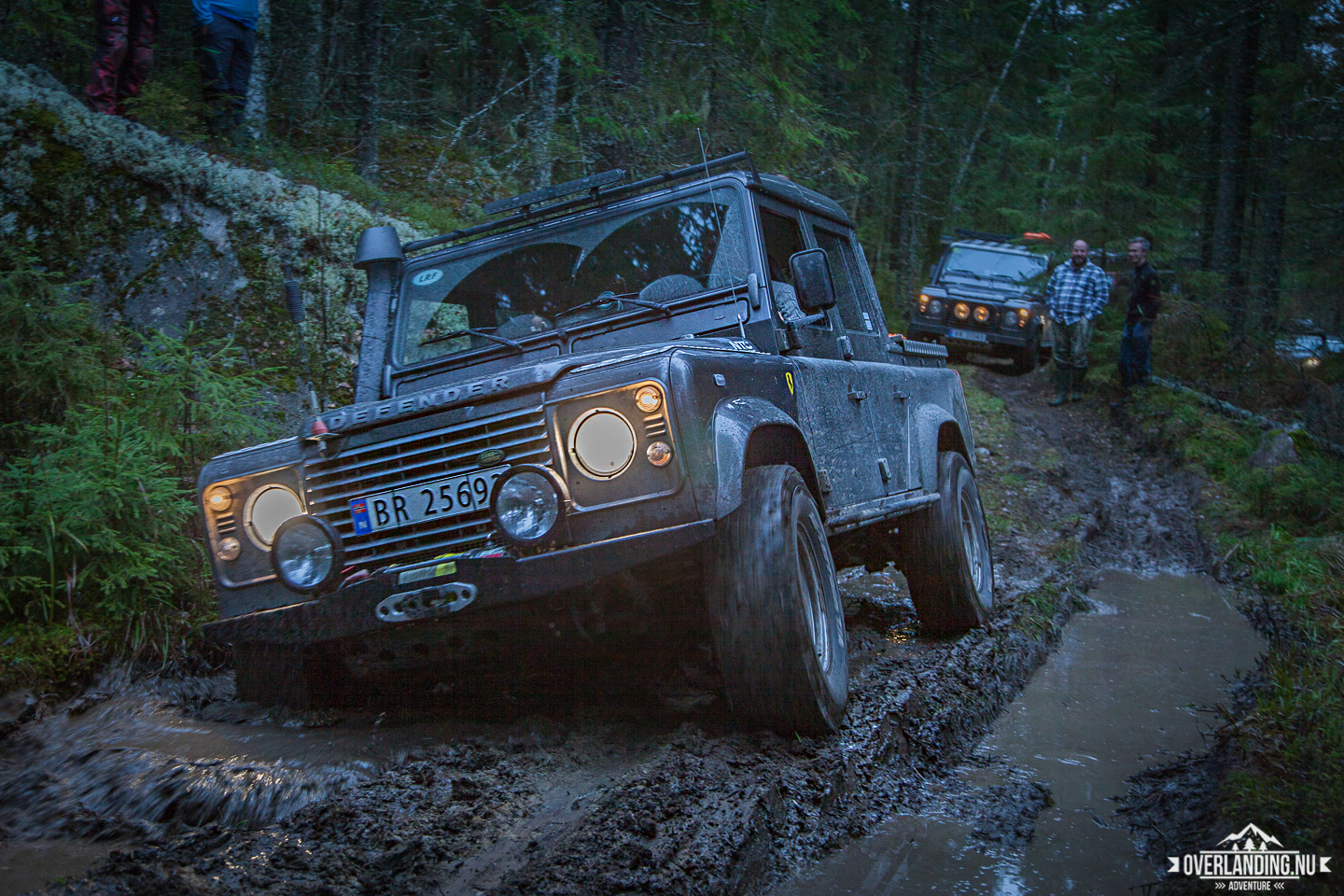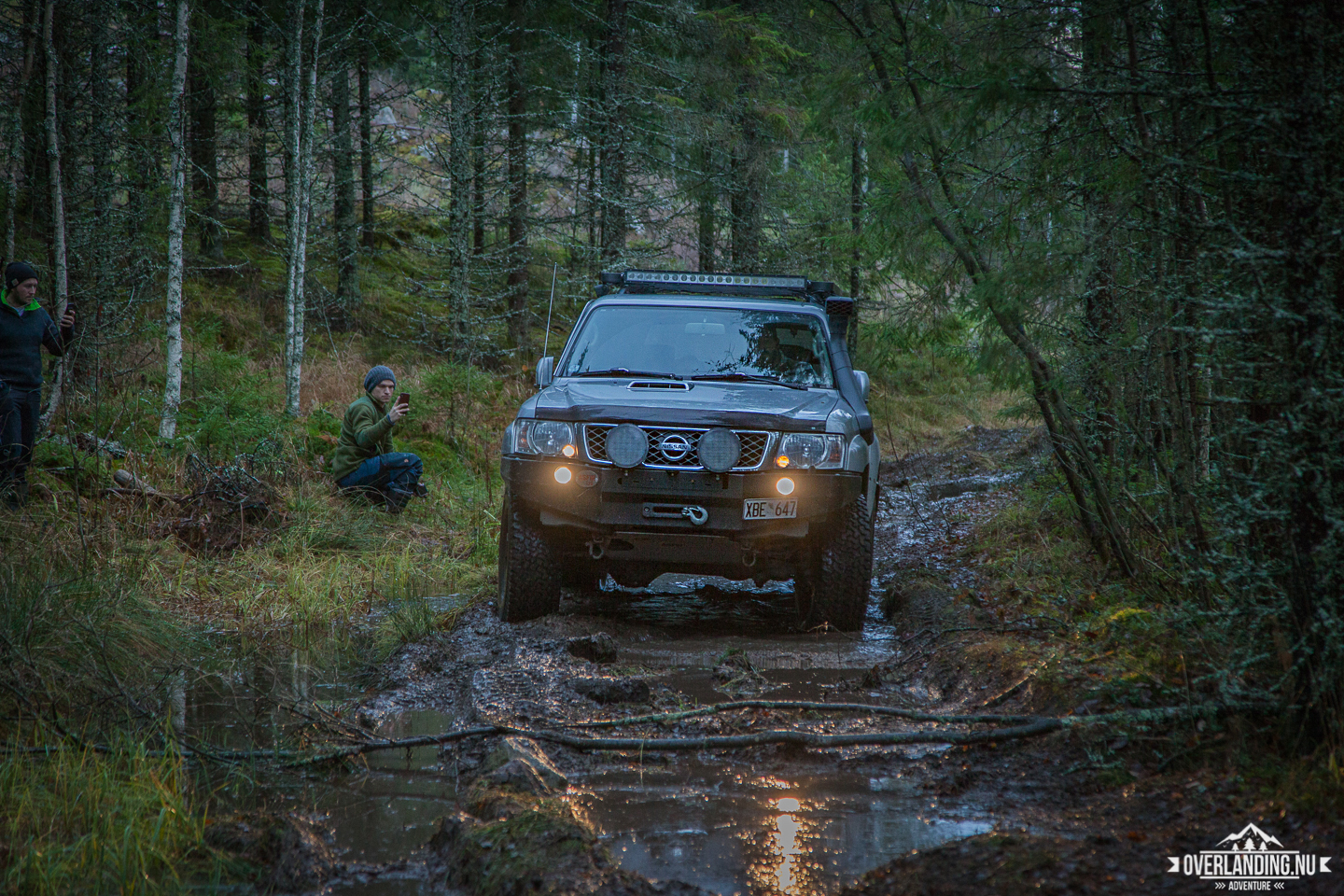 After the bigger part of an hour later I think we all were out of the woods and we regrouped and had a small mid-way meeting. As acting guide and also tonight's cook for this crew, I informed everybody that if I were to serve dinner at 20.00, we would have to shorten the planned route a bit or serve dinner at a later time. At that moment I was very unsure of when that time would be, much depending on in what state the following tracks were and how well the crew would tackle them.
The crew responded with a unanimous "Yes!" when asked if we should continue and postpone dinner. Little did they know…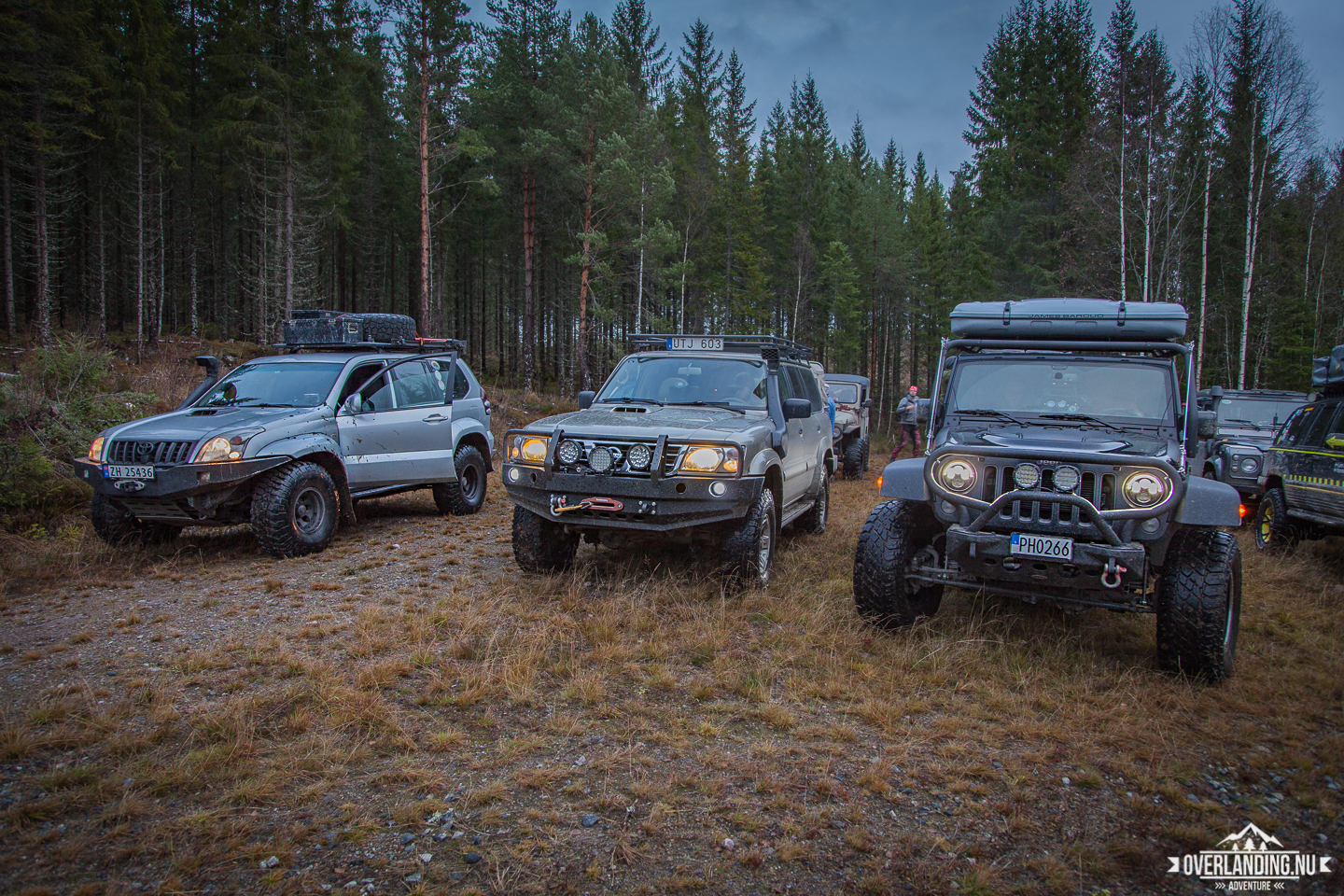 First up was a track that we drove on our last Full-grown trip. It was quite a challenge then and with all the rain that had come the last period I had a good idea of what it would look like. But the crew went through all the mud and rocks and what not without any major incidents at all! Bravo! The much dreaded " Patrol hill " was renamed to " Eriksson hill ", much to the annoyance of the latter one.
We rolled on and headed for the one and only – Road of Bones. Why the name Road of Bones? The original Road of Bones aka R504 Kolyma Highway, located in Russian Far East, claims that the bones of the forced laborers that died when building it, was used as a part of the foundation for the road. The road itself is a bitch according to the many tales that I have read about it.
When Eriksson and I drove it for the first time, the Scandinavian version of RoB, we used 3 hours on the barely 3kms it is. What we met was huge and deep tractor tracks, mud, loads of fallen trees etc etc. All this in 30 degrees Celsius with a blood sugar running lower than lowest and surrounded by everything that can fly and drain blood from ones body. A real fiesta in other words and that´s why we named it Road of Bones – it is a bitch of a road.
Of course, a lot of our friends has been back, driving it on record time just to prove their superiority in off road driving. But hey! – we cleared the road for you, don´t forget that 😉.
Any how, every time we drive this track something happens. We have had cars lose their tyres, we have had cars that has been so stuck that we didn´t know if the winches we had would be enough to get them out and so on. Would the track live up to its name again?
We got approximately 6meters in on the track before we had to make halt because of a fallen tree. Or actually it was a cluster of fallen trees. As of before, as soon as we called out " fallen tree " on the radio, Mattias and his saw went to work. To cut down fallen trees in a dark wood is not without danger but Mattias prevailed this task with grace.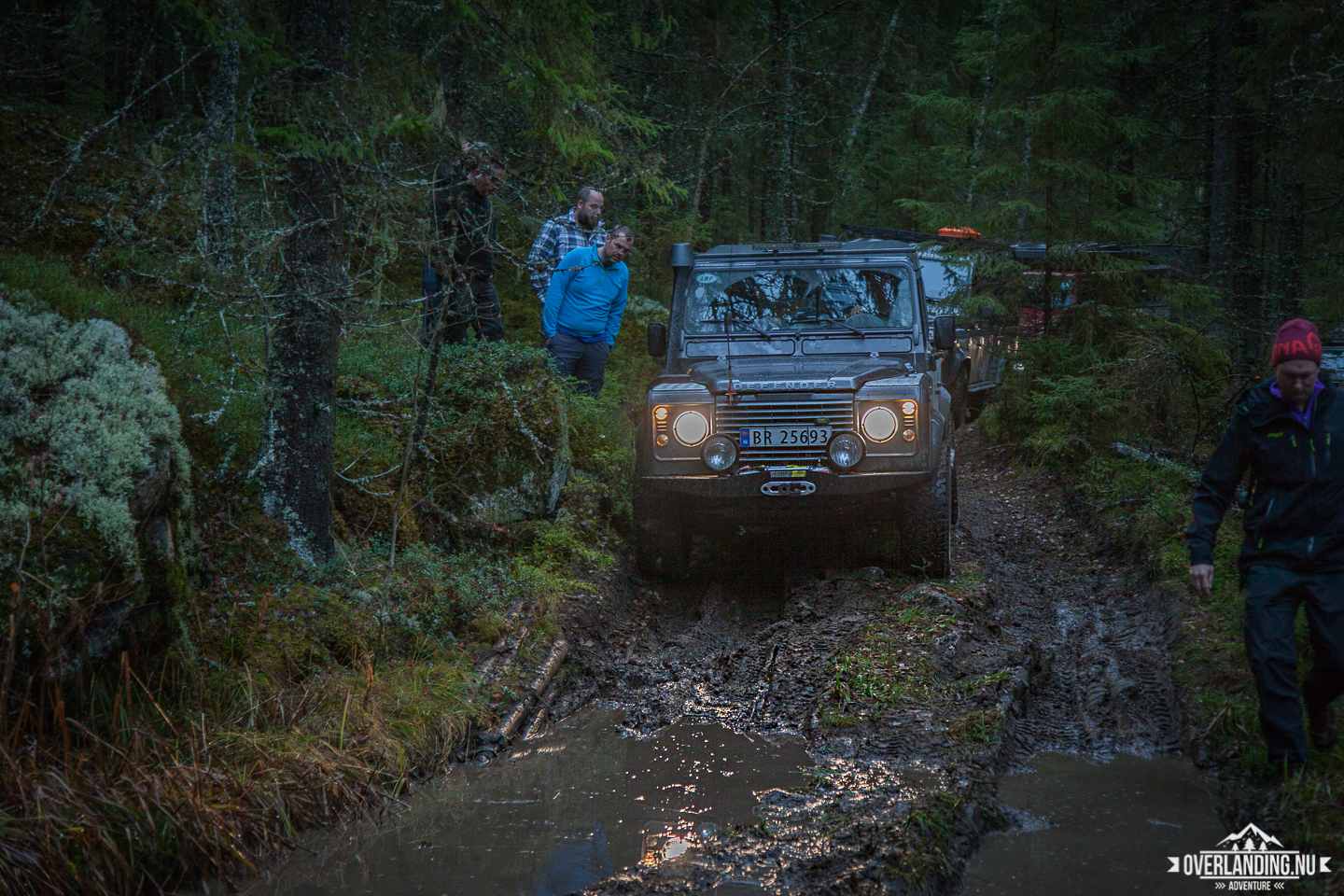 It turned out that cutting these trees, one or more every 20 meters or so, was the easy part. All of a sudden the nice firm ground turned into a minefield of semi-buried rocks, bottomless mud and the occasional heap of logs that just gets your car stuck.
It has to be said though that this was nothing that Thorstein – that was driving my car at the moment, and I had a clue about. We were making our way at the front with small contacts with Mother Earth every now and then but nothing that really stopped us. I even glanced over at Thorstein once and jinxed the whole thing with the little thought through comment " We will make this in record time "…. 3hours later we had all the cars out of the woods – Road of Bones delivers again 😀.
We arrived at camp at 20.00. Everybody started working on putting up camp, the ones that was the quicker ones started a camp fire and helped me preparing dinner.
Dinner this night was a stew with pork, chicken broth, leeks, carrots, onions and potatoes. Everything cooked over open fire in one big kettle. We had dinner really late that night…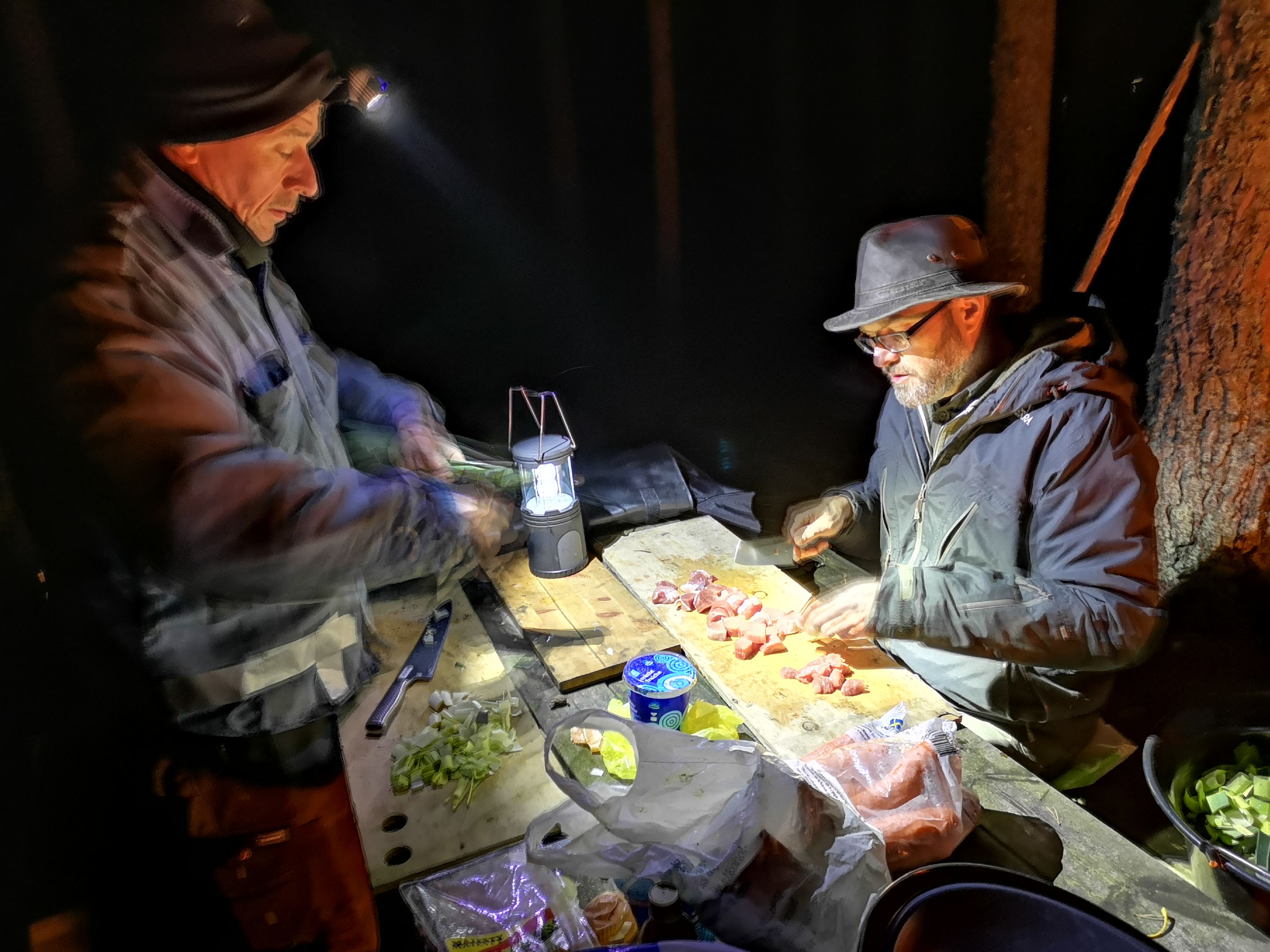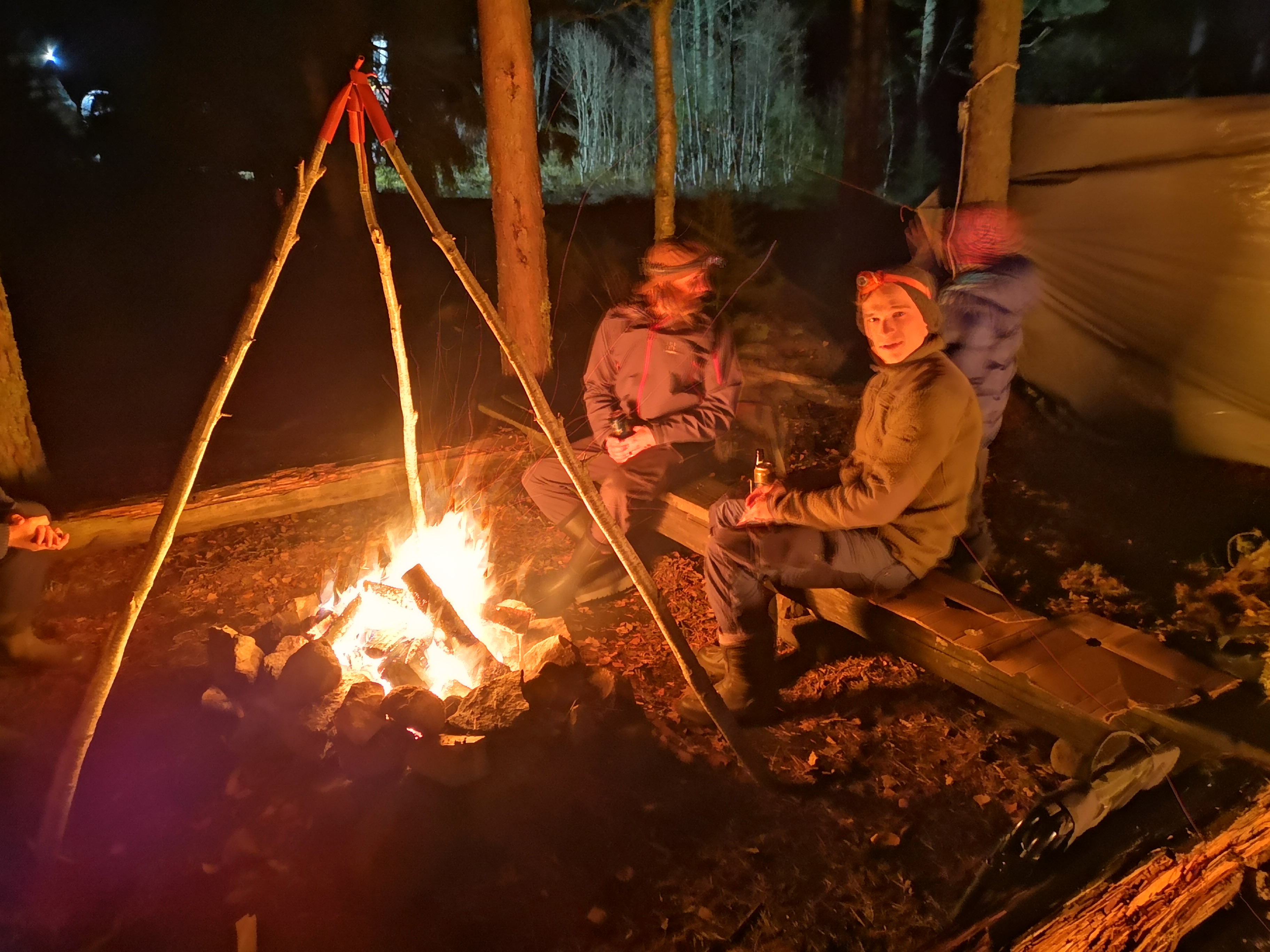 On Sunday we rearranged the route and told everybody that we would take a quick tour up to Bosses Bodega to check it out after last winter. A lot of the attendants had a long drive home so they choose to not join us but to head for home instead.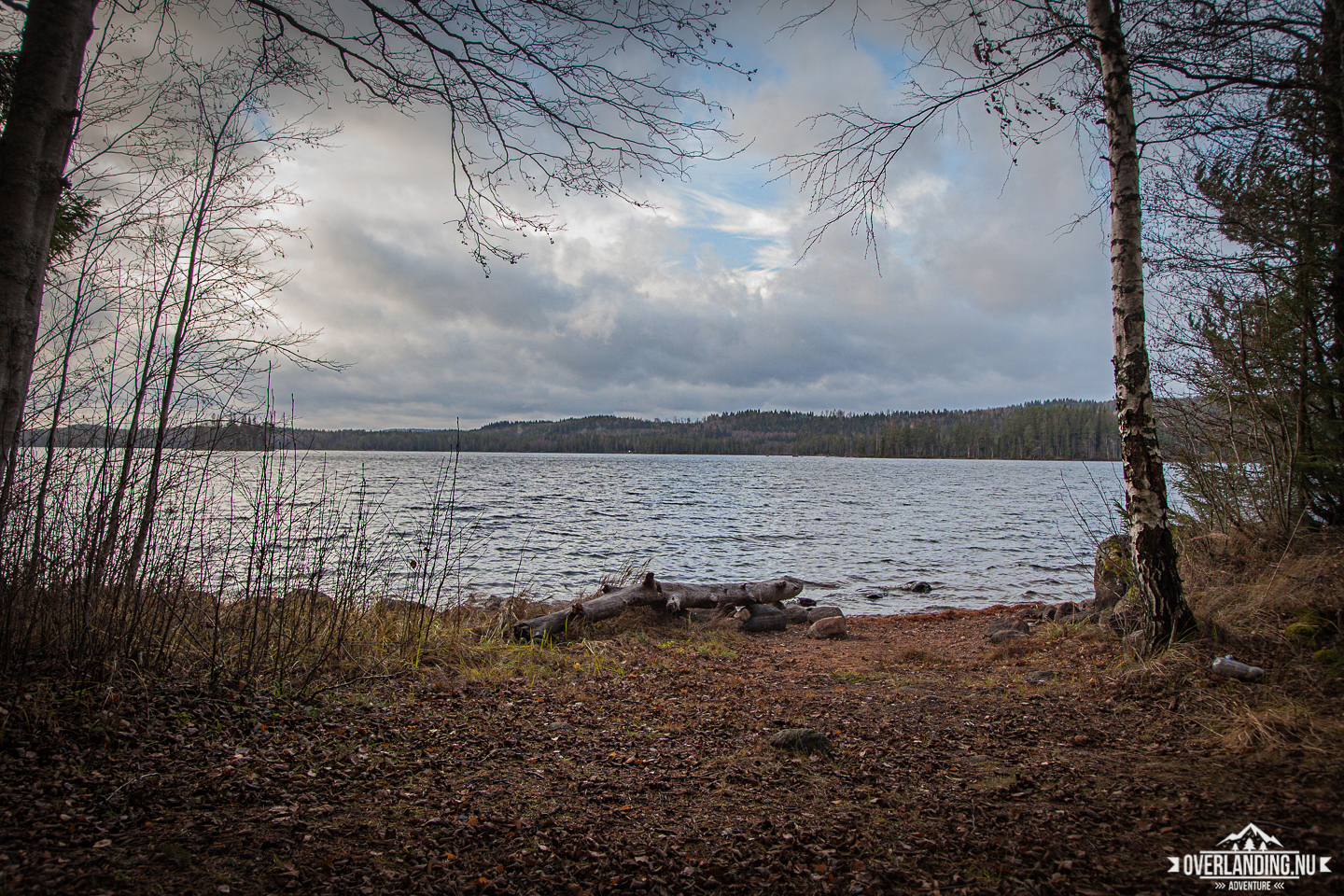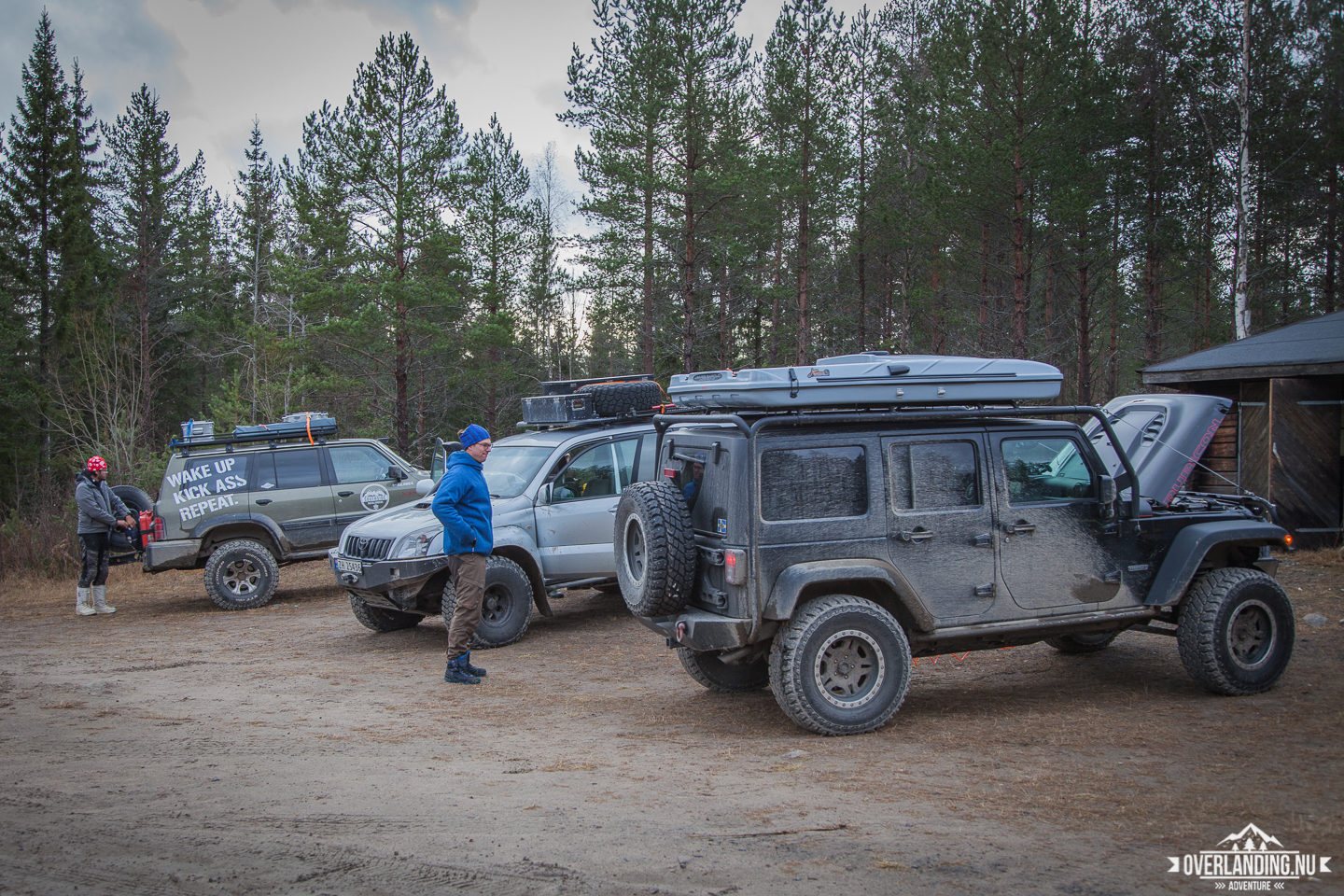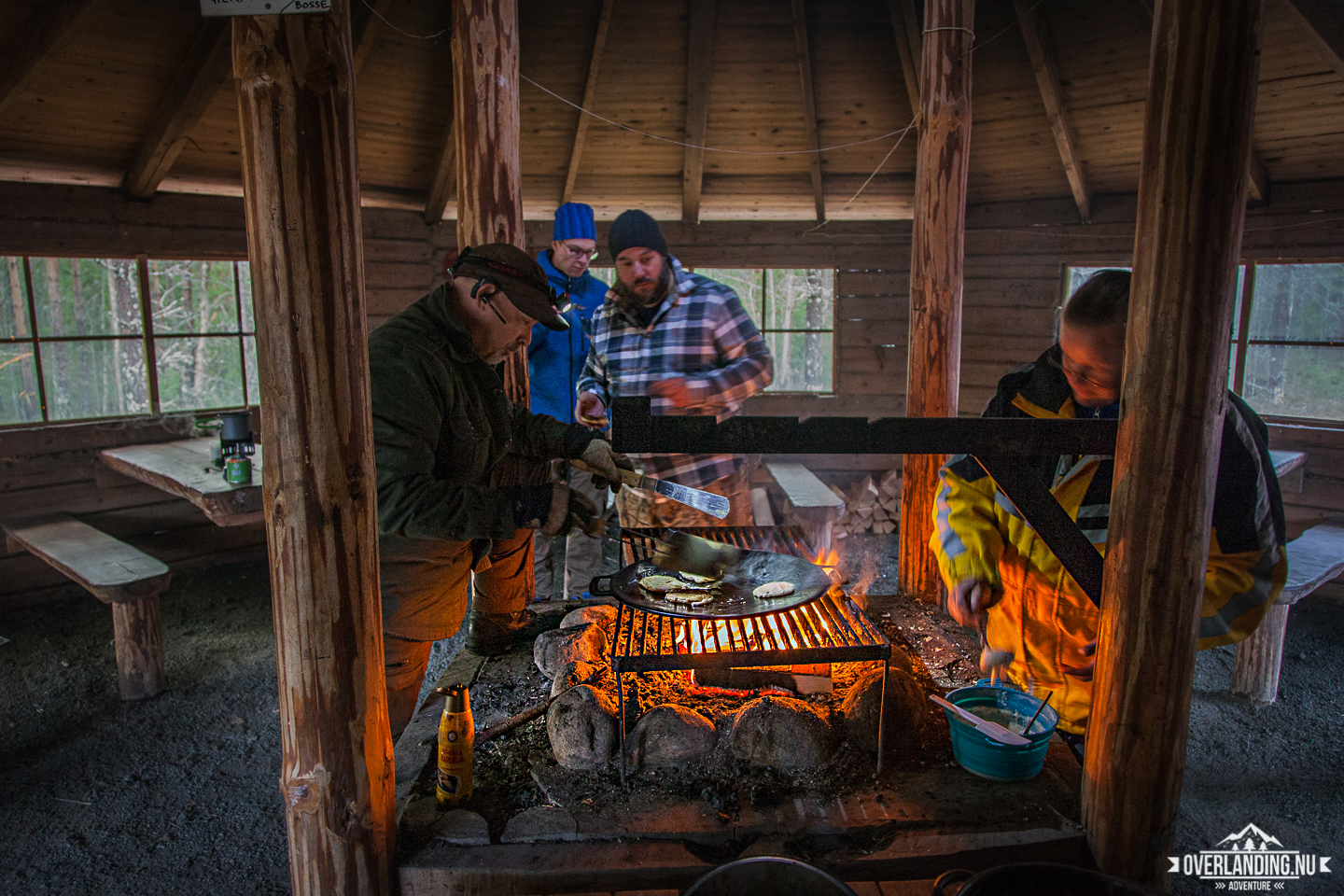 From camp it was an hour and a half to Bosses and we drove it on nice gravel roads with a few smaller tracks every now and then. At Bosses we had lunch – yesterday stew leftovers – and dessert made by Hanna and Lars.
After a cup of java we said good bye to each other and then headed for home, full of impressions from the trip we just had made.
From Mr Eriksson and me – thank you so much for a great weekend!